When fleas attack
Violence erupted on Wall Street this morning with hundreds of protesters clashing with police as they marched in Manhattan – jumping over barriers, pushing over police scooters and blocking traffic.
Fifteen protesters have already been arrested in New York today after they got into fights with police officers after a planned 'eviction' was postponed following a last-minute standoff with authorities.
Park owners – backed by New York City Mayor Michael Bloomberg – put off the scheduled clean-up and Occupy Wall Street demonstrators celebrated this morning as they marched down Broadway.
The dramatic move came just hours after demonstrators chanting 'Hell no! We won't go!' stormed a Wall Street restaurant last night to confront Mayor Bloomberg over a planned clean-up of their camp.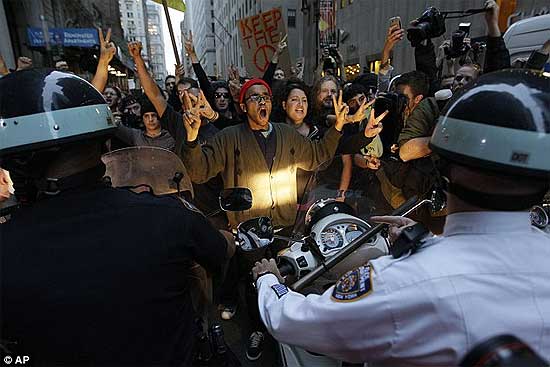 Protesters surrounded Cipriani restaurant in Manhattan as the Mayor was at dinner in an attempt to hand him a petition with 310,000 signatures supporting their right to remain in Zuccotti Park.
Their anger was triggered by the Mayor's endorsement of a clean-up of the 'unsanitary' Occupy Wall Street encampment – which was postponed by Brookfield Office Properties at the last minute.
Mayor Bloomberg said it was Brookfield rather than him that decided to postpone the clean-up, but added that the firm had come under pressure from city politicians, reported the New York Daily News. source – Daily Mail UK

NTEB is run by end times author and editor-in-chief Geoffrey Grider. Geoffrey runs a successful web design company, and is a full-time minister of the gospel of the Lord Jesus Christ. In addition to running NOW THE END BEGINS, he has a dynamic street preaching outreach and tract ministry team in Saint Augustine, FL.