"Awake to righteousness, and sin not; for some have not the knowledge of God: I speak this to your shame." I Corinthians 15:34
The mere fact that this is even being considered is proof of how in America in 2014 – Obama's America – the tide of evil has risen to epidemic proportions. The forces of evil and darkness feel emboldened and empowered by the tyranny and degradation that Obama has inflicted upon our nation.
America, the light is growing very dim in the country and soon we will lose our way completely. Stand up for righteousness, and do not be ashamed of the testimony of our Lord and Saviour Jesus Christ!
OKLAHOMA CITY – A group has unveiled designs for a 7-foot-tall statue of Satan that it wants at the Oklahoma state Capitol.
The New York-based Satanic Temple released an artist's rendering of the monument Monday. A spokesman says the group has formally submitted its application to a panel that oversees the Capitol grounds.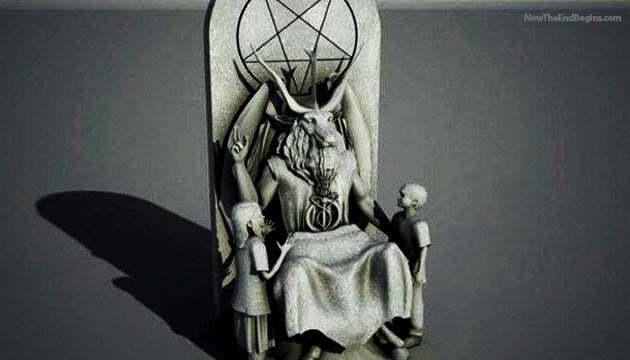 The statue features a goat-headed Satan sitting in a throne with children next to it.
The Satanic Temple says Oklahoma's decision to put a Ten Commandments monument at the Capitol opened the door for its statute.
Temple spokesman Lucien Greaves says it's moving forward with plans to have its monument approved, despite the Oklahoma Capitol Preservation Commission's decision to place a moratorium on new requests.
The commission says it's waiting until a lawsuit over the Ten Commandments has been settled. source – News 9 Oklahoma
Now The End Begins is run by end times author and editor-in-chief Geoffrey Grider, and located in Saint Augustine, Florida. NTEB delivers aggregate breaking news of the day from a biblical perspective, as well as providing rightly divided and dispensationally correct teaching and preaching from the King James Holy Bible. NTEB has been in continuous operation since being called into service for the Lord Jesus Christ in 2009. We are the front lines of the end times.