Making room for the new Islamic caliphate
At least four shrines to Sunni Arab or Sufi figures have been demolished, while six Shiite mosques, or husseiniyahs, have also been destroyed, across militant-held parts of northern Nineveh province, of which Mosul is the capital. Pictures posted on the Internet by the Islamic State of Iraq and Syria (ISIS) showed the Sunni and Sufi shrines were demolished by bulldozers, while the Shiite mosques and shrines were all destroyed by explosives.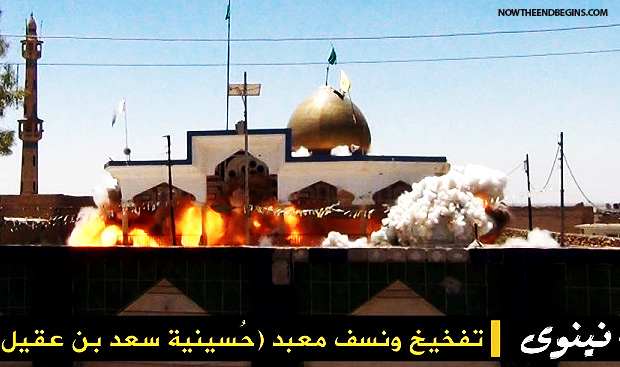 The photographs were part of an online statement titled "Demolishing shrines and idols in the state of Nineveh." Local residents confirmed that the buildings had been destroyed and that militants had occupied two cathedrals as well.
"We feel very sad for the demolition of these shrines, which we inherited from our fathers and grandfathers," said Ahmed, a 51-year-old resident of Mosul. "They are landmarks in the city."
An employee at Mosul's Chaldean cathedral said militants had occupied both it and the Syrian Orthodox cathedral in the city after finding them empty. They removed the crosses at the front of the buildings and replaced them with the Islamic State's black flag, the employee said.
ISIS-led militants overran Mosul last month and swiftly took control of much of the rest of Nineveh, as well as parts of four other provinces north and west of Baghdad, in an offensive that has displaced hundreds of thousands and alarmed the international community. source – al-Arabiya

NTEB is run by end times author and editor-in-chief Geoffrey Grider. Geoffrey runs a successful web design company, and is a full-time minister of the gospel of the Lord Jesus Christ. In addition to running NOW THE END BEGINS, he has a dynamic street preaching outreach and tract ministry team in Saint Augustine, FL.