Its the end of the world as we know it, and I feel fine
NEW YORK (CNNMoney) — By now, you've probably heard of the religious group that's predicting the end of the world starts this weekend.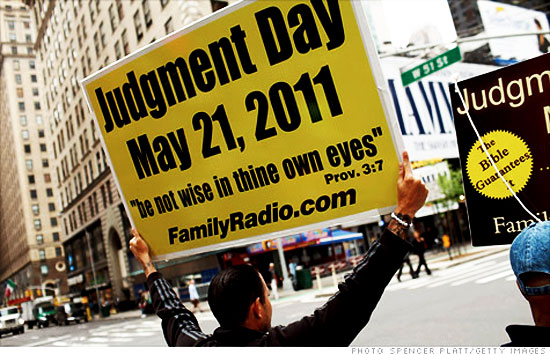 Harold Camping and his devoted followers claim a massive earthquake will mark the second coming of Jesus, or so-called Judgment Day on Saturday, May 21, ushering in a five month period of catastrophes before the world comes to a complete end in October. At the center of it all, Camping's organization, Family Radio, is perfectly happy to take your money — and in fact, received $80 million in contributions between 2005 and 2009. Camping founded Family Radio, a nonprofit Christian radio network based in Oakland, Calif. with about 65 stations across the country, in 1958.
But not even all of his own employees are convinced that the world is ending on Saturday. In fact, many still plan on showing up at work on Monday. "I don't believe in any of this stuff that's going on, and I plan on being here next week," a receptionist at their Oakland headquarters told CNNMoney. A program producer in Illinois told us, "We're going to continue doing what we're doing." According to their most recent IRS filings, Family Radio is almost entirely funded by donations, and brought in $18 million in contributions in 2009 alone.
According to those financial documents, accountants put the total worth of Family Radio (referred to as Family Stations on its official forms) at $72 million. With those kind of financials — and controversial beliefs — it's no wonder skeptics have accused the group of running a scam. Camping first inaccurately predicted the world would end in 1994. Even so, he has gathered even more followers — some who have given up their homes, entire life savings and their jobs because they believe the world is ending. Esther, the receptionist in the Oakland office, said some of her most extreme coworkers have recently driven up in fancy cars or taken their families on nice vacations as a last hurrah." source – CNN Money