Children are using social media to buy and sell Class A drugs, an investigation found.An undercover operation exposed how popular social networks, including Snapchat and Instagram, have become a 'paradise' for those dealing in illegal substances.
Teenagers are employing a code made up of 'emojis' – small digital images normally used to convey emotions – to conceal the deals. One of the country's largest drug gangs told a BBC documentary 75 per cent of their takings now come through social media transactions, using 'digital-savvy' school pupils.
Film-maker Stacey Dooley confronted the young dealers, highlighting the ease with which illegal transactions can be arranged. One of them, 15-year-old 'Denver', was wearing his school uniform when he was filmed trying to sell her seven pills of MDMA, also known as ecstasy, at Maidstone railway station.
More drugs being sold through social media:
A second, 16-year-old 'Tai', was contacted via Snapchat and agreed to do a deal for six MDMA pills at Croydon station.
He revealed he makes approximately £300 a day, that the 'money is addictive' and he uses it to 'buy clothes, go out, enjoy my life'.
Asked if he felt pressurised by adults into selling drugs to other children, he said: 'I'm a kid so kids know me … kids come to me to get their thing. When I'm grown up I'm not gonna be selling to little kids … but I am a little kid and I sell these things and all these people that want it … it's not my fault that they want it.'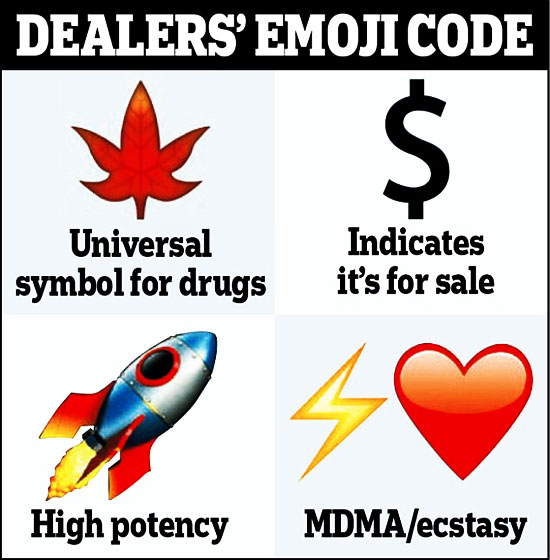 Miss Dooley was granted access to the 'safe house' of one of Britain's largest drug gangs. Bosses, their faces covered with balaclavas, showed her a shipment of liquid cocaine from South America.
They said: 'Probably 75 per cent of the takings [are from social media]. It's the younger generation's game now, it's the kids on Snapchat, Facebook, Instagram.' They added that the fast-paced communication on such platforms, which have instant chat features, means a gang member can make £26,000 in just two days.
The use of emojis also speeds up the deals. For example, an image of an autumnal maple leaf is often deployed as a symbol for drugs. Other popular drug-related symbols include a needle, pill and diamond. It has also been reported that emojis for a lightning bolt and a heart refer to ecstasy.
Miss Dooley said: 'I fear it is going to take something very tragic to happen to these kids before [location app] Yellow, Instagram and Snapchat wake up and take action. Until then it will continue to be a drug dealers' paradise.'
Snapchat, which has 250million global users and is used by more than 75 per cent of UK teens, said: 'We encourage all Snapchatters to report anything to us that doesn't belong on Snapchat.'
Instagram, which has 700 million monthly users, said it urges anyone who comes across content like that in the film to report it.
Yellow acknowledged it needs to do more to prohibit the sale of drugs but claims it is a problem in society that it cannot control. The programme tested reporting tools on Instagram, Snapchat and Yellow, highlighting three drug-dealing users, but 72 hours later, all the accounts were still active.
Stacey Dooley Investigates: Kids Selling Drugs Online is available on the BBC Three website. source
---

NTEB is run by end times author and editor-in-chief Geoffrey Grider. Geoffrey runs a successful web design company, and is a full-time minister of the gospel of the Lord Jesus Christ. In addition to running NOW THE END BEGINS, he has a dynamic street preaching outreach and tract ministry team in Saint Augustine, FL.