Two days after news emerged that ISIS had burned a captive Jordanian pilot to death, the Middle Eastern nation hit back
Jordan's Fighter jets carried out airstrikes Thursday, then returned to fly over the home of the slain 27-year-old pilot, Lt. Moath al-Kasasbeh, in the village of Ay in Karak governorate.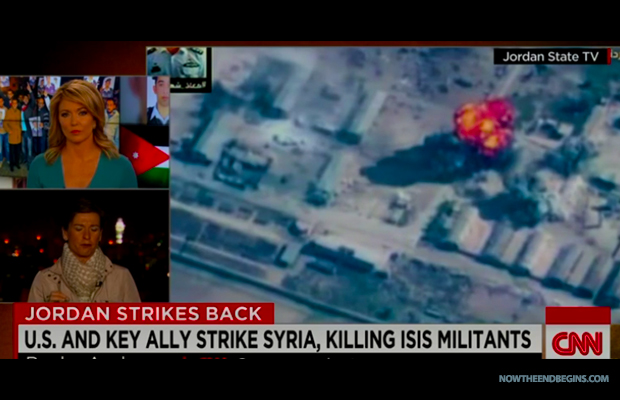 "This is just the beginning and you shall know who the Jordanians are," the armed forces said in a statement on state TV.
They claimed hits on ISIS training centers, arms and ammunition depots: "All targets were completely destroyed and all the planes returned to their bases safely."
The air mission was named "Moath the Martyr." State TV aired exclusive video footage of warplanes striking unspecified ISIS positions in Syria.
The pilot's father, Safi al-Kasasbeh, told CNN that King Abdullah II had promised him that Jordan would avenge his son's death and bombard ISIS' de facto capital of Raqqa in Syria. On Thursday, he said that the King told him 30 Jordanian fighter jets participated in the strikes.
"The homeland is entrusted to you all," he said alongside Abdullah, in remarks shown on state television, referencing Jordan's military and calling for national unity. "… For you (troops), to honor Moath is to uphold your oath and to follow in his footsteps as soldiers for God, his prophet (and) Islam … in defending this dear homeland." source

NTEB is run by end times author and editor-in-chief Geoffrey Grider. Geoffrey runs a successful web design company, and is a full-time minister of the gospel of the Lord Jesus Christ. In addition to running NOW THE END BEGINS, he has a dynamic street preaching outreach and tract ministry team in Saint Augustine, FL.