The ever-shrinking field of American allies
Pakistan has asked China to build a naval base at its south-western port of Gwadar and expects the Chinese navy to maintain a regular presence there, a plan likely to alarm both India and the US.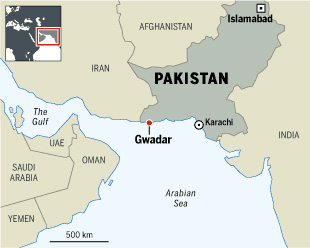 "We have asked our Chinese brothers to please build a naval base at Gwadar," Chaudhary Ahmed Mukhtar, Pakistan's defence minister, told the Financial Times, confirming that the request was conveyed to China during a visit last week by Yusuf Raza Gilani, Pakistan's prime minister. Hitherto, China has shied away from moves that might alienate the US and Beijing's neighbours, such as India, Malaysia and Indonesia. "China's rise is a beneficial force for peace and we have no hegemonic ambitions," said a Chinese official familiar with Beijing's security policy.
"This will definitely be a 'game changer' in China's defence and security relationships," said Rahul Roy-Chaudhury, a south Asia security expert at the International Institute for Strategic Studies. "The construction of a naval base in Gwadar would provide its own ships and possibly submarines with 'permanent' basing rights, along with the possibility of regular patrols and exercises in the Arabian Sea to protect the growing number of Chinese-flagged oil tankers traversing the region to meet its increasing energy demands from the Gulf region." source – FT.com

NTEB is run by end times author and editor-in-chief Geoffrey Grider. Geoffrey runs a successful web design company, and is a full-time minister of the gospel of the Lord Jesus Christ. In addition to running NOW THE END BEGINS, he has a dynamic street preaching outreach and tract ministry team in Saint Augustine, FL.