In light of the recent U.S. Supreme Court ruling that same-sex couples have a constitutional right to marry and that states have an obligation to perform same-sex marriages, Rep. Lois Capps (CA-24) introduced a bill to ensure that the United States Code reflects the equality of all marriages.
EDITOR"S NOTE: No, sadly, this is not satire. All the information in this article was taken directly and in total from the official site of Congresswoman Lois Capps from California. But what it shows is the level of Godless insanity that America is approaching as we flirt with our own destruction. Capp's bill is proof-positive of what we have been saying all along. The LGBT is not after "marriage equality", they are after the destruction of heterosexual marriage altogether. 
The Amend the Code for Marriage Equality Act of 2015 would strike the use of gendered terms such as "husband" and "wife" from the federal code and replace them with more gender-neutral terms, such as "spouse" or "married couple."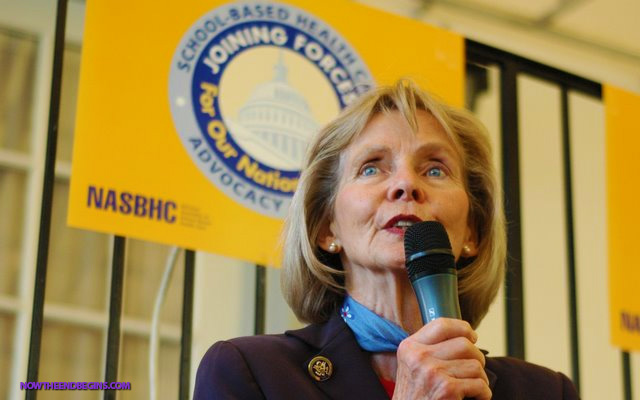 "The Amend the Code for Marriage Equality Act recognizes that the words in our laws have meaning and can continue to reflect prejudice and discrimination even when rendered null by our highest courts," Capps said. "Our values as a country are reflected in our laws. I authored this bill because it is imperative that our federal code reflect the equality of all marriages."
The proposed legislation would not only ensure that the code reflects marriage equality, but it could also make several positive changes to the U.S. Code by removing areas of gender discrimination written into federal law. For instance, it is currently illegal to threaten the President's wife – but not the President's husband. Capps' bill would update the code to make it illegal to threaten the President's spouse. The bill would correct a number of these types of discrepancies in the code.
The bill currently has 23 original cosponsors. source

NTEB is run by end times author and editor-in-chief Geoffrey Grider. Geoffrey runs a successful web design company, and is a full-time minister of the gospel of the Lord Jesus Christ. In addition to running NOW THE END BEGINS, he has a dynamic street preaching outreach and tract ministry team in Saint Augustine, FL.