Threat of civil war looms as President Obama struggles to find his voice
Muammar Gaddafi remains defiant and is using African mercenaries to slaughter Libyan citizens. At least 300 deaths have been confirmed by human rights groups, but Italy's foreign minister Franco Frattini has estimated that there have been closer to 1000 killed. President Obama has finally chosen to speak out against the violence within Libya, and the Washington Post has criticized the Obama administration's response, saying it was once again "slow to find it's voice." The reason the administration gave for the delay in addressing the plight of the Libyan people, is that it didn't want to put American citizens inside Libya in greater danger of attack by a desperate Gaddafi.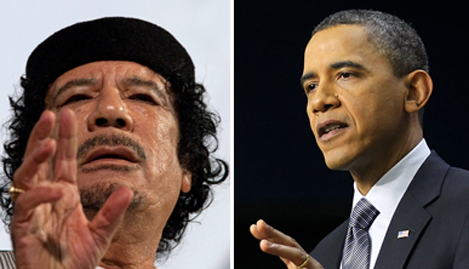 "By late Wednesday only one major Western leader had failed to speak up on Libya: Barack Obama…Late Wednesday afternoon, Mr. Obama finally appeared at a White House podium. He said "we strongly condemn the use of violence in Libya," but he did not mention Mr. Gaddafi or call for his removal. He said the administration was preparing a "full range of options" to respond but didn't say what those might be."  source: Washington Post
A major showdown between Gaddafi loyalists and protesters is coming, and President Obama's best idea is to hide behind the the skirt of the world and the UN Human Rights Council, hoping that someone else will act so he doesn't have to. "It is imperative that the nations and the peoples of the world speak with one voice," he said. "That has been our focus."
"Anywhere we go there is danger," said one woman, a 28-year-old mother of four who asked not to be named. "All we want is food and fresh water for our children but it is impossible to find."Security is the only concern of the authorities."
The Libyan people are scared and suffering; markets also feel the fear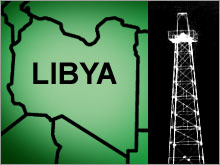 Gaddafi is willing to crush his own people and sabotage Libya's oil lines and wealth to hold on to his power, and it appears that no one is going to stop him.
"Oil surged to $100 a barrel in New York for the first time in two years. Libya is Africa's third-biggest supplier, and violence threatened to spread to other Middle East producers.
Egyptians crossing back into their country across a border now in the hands of Qaddafi's opponents described attacks by government forces in the capital. Soldiers and militiamen shot at civilians and most people stayed home out of fear, they said.
"Gunfire starts at sunset and lasts all night in Tripoli," said Mohamed Hassan, a carpenter. Yasser al-Badry, also a carpenter, said live bullets were "all over the ground" after one crackdown against protesters in the capital."  source: Bloomberg
Mercenaries prepare for an all-out offensive
BAIDA, Libya — Thousands of African mercenaries and militiamen were massing on roads heading toward Tripoli on Wednesday to reinforce the stronghold of Col. Muammar el-Qaddafi as rebels protesting his 40-year rule claimed to have taken control of cities closer to the capital, witnesses said.
The week-old uprising that has swept Libya now appears headed for a decisive stage, with Colonel Qaddafi fortifying his bastion in Tripoli and opponents in the capital saying they were making plans for their first coordinated protest.  source: NY Times
Now The End Begins is run by end times author and editor-in-chief Geoffrey Grider, and located in Saint Augustine, Florida. NTEB delivers aggregate breaking news of the day from a biblical perspective, as well as providing rightly divided and dispensationally correct teaching and preaching from the King James Holy Bible. NTEB has been in continuous operation since being called into service for the Lord Jesus Christ in 2009. We are the front lines of the end times.