"This was the moment when the rise of the oceans began to slow and our planet began to heal"
"For thou hast said in thine heart, I will ascend into heaven, I will exalt my throne above the stars of God: I will sit also upon the mount of the congregation, in the sides of the north: I will ascend above the heights of the clouds; I will be like the most High. Yet thou shalt be brought down to hell, to the sides of the pit." Isaiah 14:13-15 (KJV)
The White House yesterday tweeted a photo of Barack Obama stepping off of Air Force One, his hand raised high in the air and perfectly in line with a rainbow in the background sky. Obama wants you to know that he has powers that you and I do not possess. He wants you to know that he and he alone is in control of your destiny. This photo is how he views himself, as someone who has the power to cast a rainbow.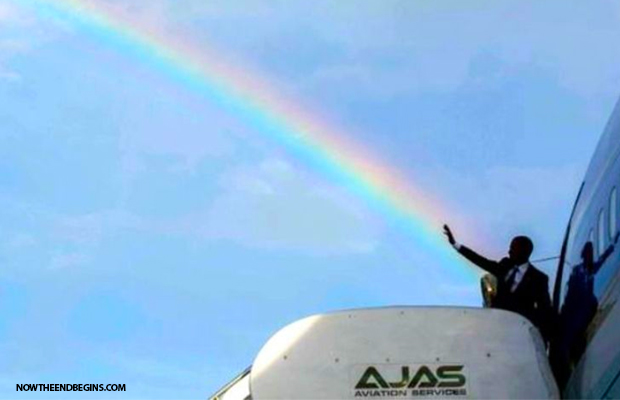 Is Obama really that much of a sick narcissist? Yes, he is. Remember, he is the same guy who said this while running for office in June of 2008:
"The journey will be difficult. The road will be long. I face this challenge with profound humility, and knowledge of my own limitations. But I also face it with limitless faith in the capacity of the American people. Because if we are willing to work for it, and fight for it, and believe in it, then I am absolutely certain that generations from now, we will be able to look back and tell our children that this was the moment when we began to provide care for the sick and good jobs to the jobless; this was the moment when the rise of the oceans began to slow and our planet began to heal; this was the moment when we ended a war and secured our nation and restored our image as the last, best hope on Earth. This was the moment – this was the time – when we came together to remake this great nation so that it may always reflect our very best selves, and our highest ideals."
"With hard work and hope, change is always within our reach." —President Obama: http://t.co/yWMlWPbgCf pic.twitter.com/Ild69Rokxa

— The White House (@WhiteHouse) April 10, 2015
Has anyone, in the history of any nation in any time, ever run for office on a platform of "stopping the rise of the oceans and healing the planet"? At the time when America desperately needs a leader who loves this country and is able to guide her through these tough and challenging times, we have instead an out of control, narcissistic, demonic Peter Pan who thinks he's the Messiah.
God help us.

NTEB is run by end times author and editor-in-chief Geoffrey Grider. Geoffrey runs a successful web design company, and is a full-time minister of the gospel of the Lord Jesus Christ. In addition to running NOW THE END BEGINS, he has a dynamic street preaching outreach and tract ministry team in Saint Augustine, FL.