Teenage Girl Wakes To Samsung Galaxy S4 Catching Fire Under Pillow
In the video below, you see the terrifying results of what happens when you damage your smart phone battery with a sharp object. But there have been many reports of smart phone, with damaged batteries, spontaneously catching fire on people's nightstands while they sleep. However it is provoked, this is what it looks like when your smart device catches fire. Imagine what would happen if it was in your pocket at the time!
A 13-year-old Texas girl recently woke up to a nightmare. Her cell phone had ignited under her pillow, and the fire melted the handset and burned the pillow, bedsheet and mattress.
Ariel Tolfree told Fox 4 in Dallas-Forth Worth that her Samsung Galaxy S4 slipped under her pillow as she fell asleep, and she was roused by the smoldering smell.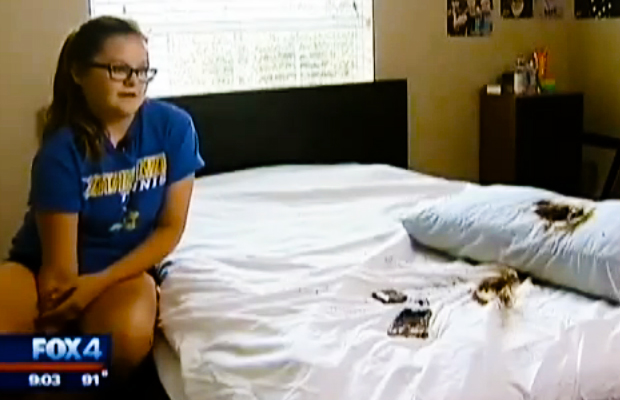 Her father, Thomas Tolfree, suspected the fire started with the battery. In its defense, Samsung told the station that the battery was a replacement and not a Samsung, and that the company's user guide warns consumers that if their units are covered by bedding or other material, choked-off airflow could cause a fire. The company has offered to pay for the bedding, mattress and a new cell phone. source

NTEB is run by end times author and editor-in-chief Geoffrey Grider. Geoffrey runs a successful web design company, and is a full-time minister of the gospel of the Lord Jesus Christ. In addition to running NOW THE END BEGINS, he has a dynamic street preaching outreach and tract ministry team in Saint Augustine, FL.