Barney and Ron's not-so-excellent adventure
For all of you deluded people who view Ron Paul as your political "savior", I hope this will be a serious jolt of reality for you. Here we have Paul, combining with ultra-far-left-Liberal Barney Frank, to legalize a very dangerous drug. Just the fact that he would work with Barney Frank on anything should be enough to show you the truth of who this fraud is. Ron Paul is a very dangerous person with a secret New World Order agenda that barely conceals, among other things, his disdain for Israel and his support for the Ground Zero mosque.
"A group of US representatives plan to introduce legislation that will legalize marijuana and allow states to legislate its use, pro-marijuana groups said Wednesday. The legislation would limit the federal government's role in marijuana enforcement to cross-border or inter-state smuggling, and allow people to legally grow, use or sell marijuana in states where it is legal.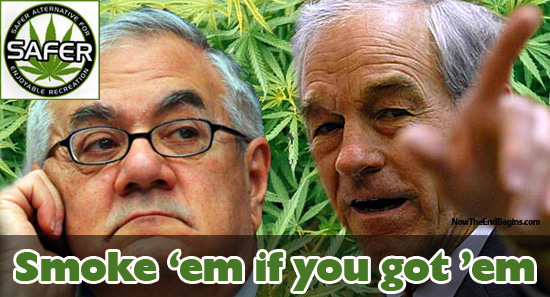 The bill, which is expected to be introduced on Thursday by Republican Representative Ron Paul and Democratic Representative Barney Frank, would be the first ever legislation designed to end the federal ban on marijuana.
Sixteen of the 50 states as well as the District of Columbia have legalized the use of marijuana for medical purposes.
But planting, selling or commercially distributing marijuana remains illegal under federal law.
Last year, California citizens voted not to legalize recreational marijuana use, although the debate continues in about half a dozen other states.
Three weeks ago a group of ex-presidents of Latin America as well as former United Nations Secretary General Kofi Annan denounced the failure of the global war on drugs and called for urgent changes, including the legalization of cannabis.
Between 1998 and 2008, worldwide consumption of opiates increased 35 percent, with cocaine use growing 27 percent and marijuana use growing 8.5 percent, according to the Global Commission on Drug Policy. June marks the 40th anniversary of the "War on Drugs" launched by President Richard Nixon in 1970, the first major US anti-drug initiative. source – Yahoo

NTEB is run by end times author and editor-in-chief Geoffrey Grider. Geoffrey runs a successful web design company, and is a full-time minister of the gospel of the Lord Jesus Christ. In addition to running NOW THE END BEGINS, he has a dynamic street preaching outreach and tract ministry team in Saint Augustine, FL.