Obama's Katrina a deadly legacy for the Gulf
NTEB covered all 87 days of the BP oil disaster, otherwise known as Obama's Katrina. And through it all, the Obama administration did every thing wrong, and to such an extent that you have to wonder whose side he was really on. Today it was discovered that the spill AND the clean up with its thousands of gallons of dispersants, did nothing but extinguish all life on the ocean floor. The fallout from Obama's Katrina continues.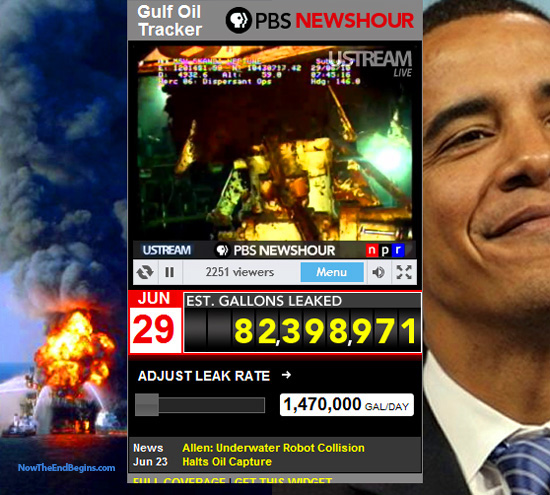 "WASHINGTON – Oil from the BP spill remains stuck on the bottom of the Gulf of Mexico, according to a top scientist's video and slides that she says demonstrate the oil isn't degrading as hoped and has decimated life on parts of the sea floor. That report is at odds with a recent report by the BP spill compensation czar that said nearly all will be well by 2012.
At a science conference in Washington Saturday, marine scientist Samantha Joye of the University of Georgia aired early results of her December submarine dives around the BP spill site. She went to places she had visited in the summer and expected the oil and residue from oil-munching microbes would be gone by then. It wasn't. "There's some sort of a bottleneck we have yet to identify for why this stuff doesn't seem to be degrading," Joye told the American Association for the Advancement of Science annual conference in Washington. Her research and those of her colleagues contrasts with other studies that show a more optimistic outlook about the health of the gulf, saying microbes did great work munching the oil.
"Magic microbes consumed maybe 10 percent of the total discharge, the rest of it we don't know," Joye said, later adding: "there's a lot of it out there." source – Yahoo News

NTEB is run by end times author and editor-in-chief Geoffrey Grider. Geoffrey runs a successful web design company, and is a full-time minister of the gospel of the Lord Jesus Christ. In addition to running NOW THE END BEGINS, he has a dynamic street preaching outreach and tract ministry team in Saint Augustine, FL.