TUNE IN SUNDAY NIGHT AT 9:00 PM EST FOR A LIVE 2-HOUR KJV RADIO BIBLE STUDY
"For I know their works and their thoughts: it shall come, that I will gather all nations and tongues; and they shall come, and see my glory." Isaiah 66:18 (KJV)
Once the Thousand Year Reign of King Jesus starts, the rule of Jesus will never, ever come to an end as the Bible testifies to. At the end of the Thousand Years, John says that God will let Satan out of his chains, and allow him to deceive the world one last time. This end with the Battle of Gog and Magog, which is over almost before it starts. After this comes the Great White Throne Judgment, the casting of the Devil and all his followers from Hell into the Lake of Fire, and then the entire Earth will be burned up and remade in complete, Godly perfection.
HOW TO LISTEN: Click here to listen to this Bible study live starting at 9:00 PM EST Sunday evening.
On this episode of Rightly Dividing, we will be exploring the time on this earth when King Jesus of Nazareth will rule and reign on the Throne of David, from the literal, physical and visible city of Jerusalem for one thousand literal and actual years.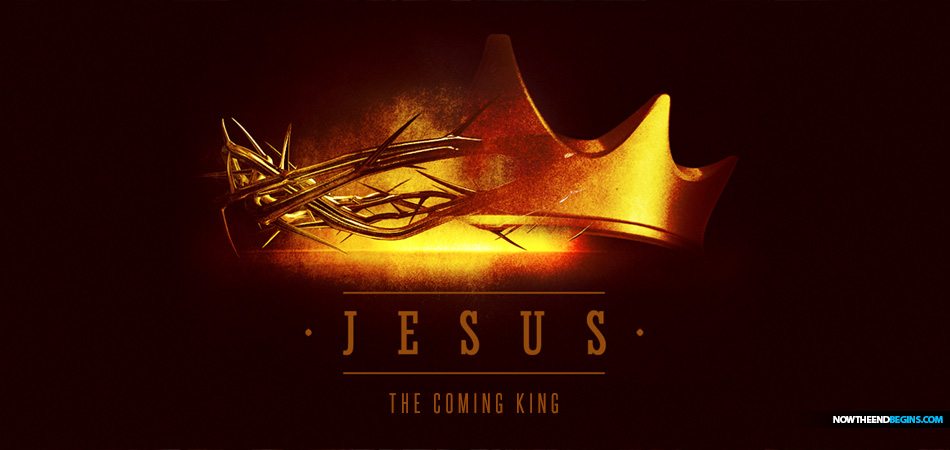 HOW TO LISTEN: Click here to listen to this Bible study live starting at 9:00 PM EST Sunday evening.
Be prepared to hear all sorts of things that no one ever told you, because this precious but much-neglected Bible doctrine is preached in very few Christian churches, if any at all. I cannot recall the last time a preacher, any preacher, preached a message like this from the pulpit.
Your Generous Donations Make These Live King James Radio Bible Studies Possible!
Thanks to you, the NTEB reader, we now have a beautiful, fully digital broadcasting studio from which to produce our live KJV radio Bible studies. As you might imagine, running all of our outlets and media is an expensive proposition. But thanks to your generous giving to our current fundraiser, we are reaching our goals.
HOW TO DONATE: Click here to view our GoFundMe page
Listen to what our donation angels have to say about Now The End Begins
"Since I first found your website it has been both exciting and eye opening, NTEB has made me and my wife grow in our faith and our understanding of the end times and the spiritual battle. Keep up the awesome work may God bless you your family and your staff" Daniel Cartrette
"Geoff, I read your daily blog and appreciate your commitment to speak God's word! i believe men like you are needed in this day! Stay in the fight! Be ready for the Lord's return!! Blessings" John Ehlers
"Info is very helpful in this fake news world. Useful in Bible study." Don King
"There are many devices in a man's heart: nevertheless the counsel of the LORD, that shall stand." Proverbs 19:21 KJV "Because sentence against an evil work is not executed speedily, therefore the heart of the sons of men is fully set in them to do evil." Ecc 8:11 KJV" Mr. and Mrs. Poerio
"Thank you for your work in getting out pertinent news as it relates to biblical prophecy and sound doctrine." John Absich
"GOD BLESS!" Dave Lawson
HOW TO DONATE: Click here to view our GoFundMe page
STREET-TESTED NTEB GOSPEL TRACTS:
This is the official gospel tract of NTEB, used here on the streets of Saint Augustine and sent around the world as they are purchased through our website. We ask you to prayerfully consider supporting the work of Now The End Begins by purchasing a box of these full-color, high-quality gospel tracts. Thank you in advance!
But whatever you do, don't do nothing. Time is short and we need your help right now. If every one of the 12,636 people on our daily mailing list gave $4.50, we would reach our goal immediately. If every one of our 151,781 followers on Facebook gave $1.00 each, we would reach 300% of our goal. The same goes for our 13,600 followers on Twitter. But sadly, many will not give, so we need the ones who can and who will give to be generous. As generous as possible.
"Thank you very much!" – Geoffrey, editor-in-chief, NTEB
"Looking for that blessed hope, and the glorious appearing of the great God and our Saviour Jesus Christ;" Titus 2:23 (KJV)
HOW TO DONATE: Click here to view our GoFundMe page
---

NTEB is run by end times author and editor-in-chief Geoffrey Grider. Geoffrey runs a successful web design company, and is a full-time minister of the gospel of the Lord Jesus Christ. In addition to running NOW THE END BEGINS, he has a dynamic street preaching outreach and tract ministry team in Saint Augustine, FL.