Netanyahu stands firm against Obama 1967 pproposal
Israel is the only country that has guaranteed freedom of all faiths in Jerusalem, which must remain undivided, Prime Minister Binyamin Netanyahu told Congress Tuesday. In unusually strong language, he told members of Congress that Judea and Samaria are part of the ancient Jewish homeland that our forefathers walked in and that the 650,000 Jews living there "are not 'occupying' the region." He strongly criticized the changed versions of history that are being promoted by others.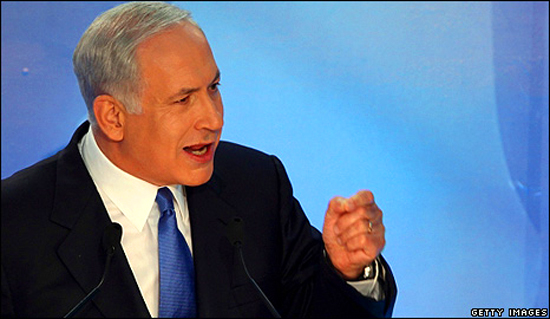 Interrupted dozens of times by standing ovations, after minutes-long applause as he entered the chamber, Netanyahu also said that there are 300 million Arabs in the MIddle East, but the only ones who are free are Israeli citizens. Prime Minister Binyamin Netanyahu noted in his opening remarks that the "ground is still shifting" in the Middle East and that the uprisings in the Muslim countries represent people's demands for liberty.
"Israel is not what is wrong in the Middle East. Israel is the only thing that is right in the Middle East." – he said
He thanked the United States for helping Israel reach its defense capabilities despite the "tough" economy. He jokingly said that the United States doesn't have to help build Israel–it is already built. More seriously, he said that the United States doesn't have to send soldiers to defend Israel, because Israel defends itself. Netanyahu also stressed that the borders must be negotiated because Israel "will not return to the indefensible borders of 1967." He relied on his interpretation of U.S. President Barack Obama's statement that any future borders of Israel will not be identical with the 1949 Armistice Lines that existed until the Six-Day War in 1967. He repeated his insistence that the Jordan River have an Israeli Army presence, remarking that in the MIddle East, peace depends on the ability to defend oneself. source – Arutz Sheva

NTEB is run by end times author and editor-in-chief Geoffrey Grider. Geoffrey runs a successful web design company, and is a full-time minister of the gospel of the Lord Jesus Christ. In addition to running NOW THE END BEGINS, he has a dynamic street preaching outreach and tract ministry team in Saint Augustine, FL.