You need to have nothing to do with Virtual Reality headsets. Don't use one ever, not once. Read Revelation 13 very, very carefully about the second beast who has the power to create a virtual world and bring it to life
"And he had power to give life unto the image of the beast, that the image of the beast should both speak, and cause that as many as would not worship the image of the beast should be killed." Revelation 13:15 (KJV)
The photo at the top of this article should disturb you greatly if you are a Bible believer who knows anything about the end times. I want you to look very closely at it, study it, and understand it, for it is the future that has just arrived. It is a photo of Mark Zuckerberg at the World Mobile Congress in Barcelona, Spain. Now I want to tell you about a movie from 1999 that almost nobody watched, Apocalypse II: Revelation.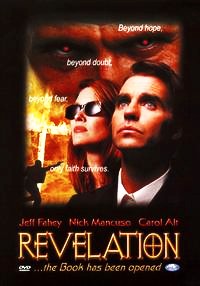 Back in the late 1990's there was a Christian film series on the end times called Apocalypse, produced from the Left Behind people and released by Cloud Ten Pictures. They all had to do with life on earth after the Rapture of the Church and showed us a world in the time of Jacob's trouble, otherwise known as the Great Tribulation. From a doctrinal perspective they were hit and miss at best, but they were compelling to watch because we got to see the end times acted out. The second film in the series had a fascinating plot line. It involved an entire world connected to the Internet, now controlled by the Antichrist, and his crowning achievement was giving an unsuspecting, adoring world the "Day Of Wonders".
The Day Of Wonders was, as you might have guessed by now, Virtual Reality. Everyone in the whole world was to be given a headset to see this incredible new world that awaited them there, but what they got when they put them on was anything but that. I won't spoil the ending for you if you decide to go and watch the movie, and you absolutely should get a copy and see it for yourself. What would have brought a wry smile to your face a few years ago will now instill full on goosebumps when you really consider what is now happening. Take a moment and go visit the Oculus Store to see what I mean.
The website, the Verge, had an interesting take on Zuckerberg at the Mobile Digital Congress:
"The image above looks like concept art for a new dystopian sci-fi film. A billionaire superman with a rictus grin, striding straight past human drones, tethered to machines and blinded to reality by blinking plastic masks. Golden light shines down on the man as he strides past his subjects, cast in gloom, toward a stage where he will accept their adulation. Later that night, he will pore across his vast network and read their praise, heaped upon him in superlatives, as he drives what remains of humanity forward to his singular vision.

Except it's not from a sci-fi movie — it's from Mobile World Congress, in Barcelona, and the man is Facebook boss Mark Zuckerberg. The picture trips all of our "horrible cyberpunk future" alarms, carefully put in place by everything from The Matrix to Noam Chomsky's Manufacturing Consent. The former uses evil squid-bodied robots, the latter privileged human elites, but both works see humanity too distracted and preoccupied — by a full-scale replica of late-90s reality, or just sports on TV — to even be aware of the actions of those in charge. Zuckerberg's picture acts this out: MWC attendees plugged into Samsung's Gear VR headset literally can't see the Facebook boss as he breezes past them." source
Stay far away from Virtual Reality, have nothing to do with it
Because NTEB exists on this planet as a Trumpet of God to warn people, so warn we will. Now I realize full well that what I am about to say will likely not be well received, be mocked and ridiculed, but that's ok. You need to have nothing to do with Virtual Reality headsets. Don't use one ever, not once. Read Revelation 13 very, very carefully about the second beast who has the power to create a virtual world and bring it to life:
"And I beheld another beast coming up out of the earth; and he had two horns like a lamb, and he spake as a dragon. And he exerciseth all the power of the first beast before him, and causeth the earth and them which dwell therein to worship the first beast, whose deadly wound was healed. And he doeth great wonders, so that he maketh fire come down from heaven on the earth in the sight of men, And deceiveth them that dwell on the earth by the means of those miracles which he had power to do in the sight of the beast; saying to them that dwell on the earth, that they should make an image to the beast, which had the wound by a sword, and did live. And he had power to give life unto the image of the beast, that the image of the beast should both speak, and cause that as many as would not worship the image of the beast should be killed." Revelation 13:11-15 (KJV)
So watch Mark Zuckerberg very carefully from the eye of prophecy, and you will see amazing things indeed. We live in a time where, at the close of the Church Age, an unsaved world is preparing themselves to go through the time of Jacob's trouble. The "day of wonders" from the Apocalypse II: Revelation is going to happen, and so much more.
In this bold, new world of Virtual Reality lies nothing but pain, heartache and Antichrist. Yes, the Rapture of the Church happens before the time of Jacob's trouble, but we may just experience some incredible things before we go  up and out of here.
"And now I have told you before it come to pass, that, when it is come to pass, ye might believe." John 14:29 (KJV)
Stay away from Virtual Reality. Far, far away.

NTEB is run by end times author and editor-in-chief Geoffrey Grider. Geoffrey runs a successful web design company, and is a full-time minister of the gospel of the Lord Jesus Christ. In addition to running NOW THE END BEGINS, he has a dynamic street preaching outreach and tract ministry team in Saint Augustine, FL.