The American economy has added more than one million jobs since President Donald Trump took office.
EDITOR'S NOTE: President Trump is doing exactly what he said he would do, and one million new jobs since he took over certainly attests to that fact. This is why he is so relentlessly attacked, because the fake news media and the Democrats have to make sure Trump fails , they need Trump to fail or they lose power forever. And if that means concocting a fake news narrative about Russian collusion and keeping it going for the next 4 years, that's exactly what they are going to do.
Defying expectations that job creation would slump this year, America has added more than 200,000 jobs in four out of Trump's six months in office. That brought the total number of jobs created since the start of February to 1.07 million. On average, the economy created 179,000 jobs in each of the first six months of Trump's presidency.
Many economists thought that job creation would slow this year after jobs surged in the final two years of the Obama administration. Falling unemployment and an aging population were expected to slow down monthly payroll growth to between 125,00 to 150,000 on average.
The Obama failure couldn't comprehend how Trump could add new jobs because Obama had no idea how to do it:
1 million new jobs in 6 months
209k new jobs in July
Unemployment rate at 16 yr low
Thanks, @POTUS! pic.twitter.com/5vQaEY9nQP

— GOP (@GOP) August 4, 2017
The unemployment rate has fallen to 4.3 percent, a level that many economists consider near full employment. Wages, however, have not risen by as much as most economists would expect if the economy were operating at full employment. That suggests there may be more room for improvement.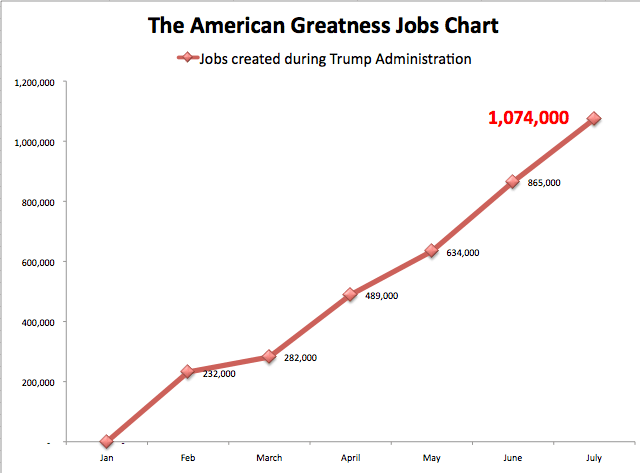 The labor force participation rate remains low, indicating that there may be more room for the economy to grow as low unemployment and rising wages lure Americans back to work.
The Trump administration is pressing forward on tax cuts and regulatory reform, efforts which might also bolster jobs creation.
The Republican Party sent out this tweet to celebrate the landmark. source
---
Now The End Begins is run by end times author and editor-in-chief Geoffrey Grider, and located in Saint Augustine, Florida. NTEB delivers aggregate breaking news of the day from a biblical perspective, as well as providing rightly divided and dispensationally correct teaching and preaching from the King James Holy Bible. NTEB has been in continuous operation since being called into service for the Lord Jesus Christ in 2009. We are the front lines of the end times.