Hillary Clinton's hero is a man who dedicated a book to Lucifer, Dr. Ben Carson said in a scathing criticism Tuesday night at the RNC in Cleveland.
"How art thou fallen from heaven, O Lucifer, son of the morning! how art thou cut down to the ground, which didst weaken the nations!" Isaiah 14:12 (KJV)
During a speech in support of Republican party nominee Donald Trump, the retired neurosurgeon said America should think about whether it wants someone whose mentor Saul Alinsky dedicated his book, "Rules for Radicals" to "Lucifer, the original radical who gained his own kingdom."
"The secular progressive agenda is antithetical to the principles of the founding of this nation," Carson said.
Clinton followed the community organizer closely throughout her college career, even dedicating her senior thesis to his left-leaning ideas of political subversion. The Bill Clinton White House later attempted to bury the thesis.
"This was someone that Hillary greatly admired and that affected all of her philosophies subsequently," the former presidential candidate said.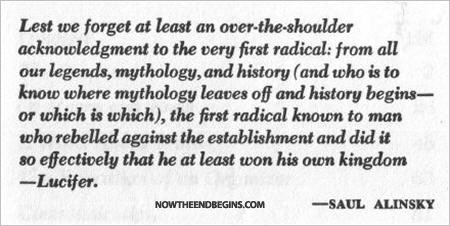 "Recognize that this is a very famous book, 'Rules for Radicals,' and on the dedication page, [author Saul Alinsky] acknowledged Lucifer in an admiring way, saying he's the original radical who gained his own kingdom," Carson told CNN.
When host Chris Cuomo tried to argue the Alinsky connection was antiquated, Carson responded that Clinton personally knew Alinsky and was on a "first name basis" with him.
"We all have people who are our mentors. We all have people who we admire. As a college student at Wellesley, she was on a first-name basis with Saul Alinsky," Carson said. "They were very close."
Clinton insider Larry Nichols has also commented on Hillary's fascination (or participation) with the Satanic occult.
Nichols recounted to Infowars last year a conversation he had with Bill Clinton, who told him Hillary was part of a witch's coven that met in California. source

NTEB is run by end times author and editor-in-chief Geoffrey Grider. Geoffrey runs a successful web design company, and is a full-time minister of the gospel of the Lord Jesus Christ. In addition to running NOW THE END BEGINS, he has a dynamic street preaching outreach and tract ministry team in Saint Augustine, FL.