China missile sales
Newly released classified documents reveal China's continued violations of the Missile Technology Control Regime (MTCR) with sales of missiles and parts to Iran, Syria and Pakistan. A Sept. 18, 2009, State Department cable on the issue was prepared for an international meeting of the MTCR that year in Rio de Janeiro. The MTCR is an informal association of 34 states that seeks to limit exports of missiles with ranges greater than 185 miles and warheads heavier than 1,000 pounds.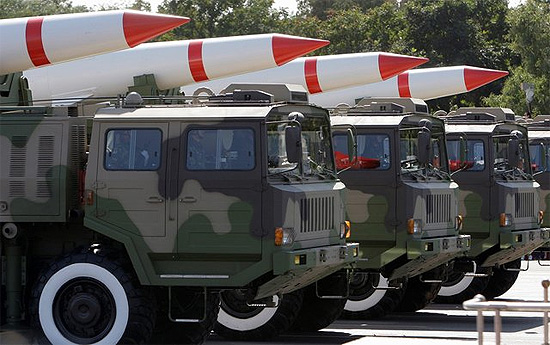 Sent under Secretary of State Hillary Rodham Clinton's signature, the cable included a report on Chinese missile proliferation that on three occasions referred to a "lack of political will" by China to stop missile transfers.
"Chinese authorities and firms fail to conduct sufficient evaluations of missile-applicable transactions or to take steps to know their customers," the report said.
Several cables, labelled "secret," were made public on Monday by the anti-secrecy site WikiLeaks, showing Chinese violations or circumventions of the accord.
"Other firms that are aware of the vulnerabilities in China's export-control system take steps to conceal sensitive transactions and avoid detection, including by adopting new names and falsifying shipping documentation. Additionally, some firms may take advantage of government connections to skirt Chinese regulations," the cable said.
Among the violations were sales to Iran by China's Dalian Sunny Industries, also known as LIMMT; sales of ballistic-missile goods to Syria; and transfers by Shanghai Technical By-Products International Corp. to Iran of ballistic-missile items.
Sanctions were imposed on two Chinese firms in 2009: LIMMT for sales of graphite, tungsten, gyroscopes and accelerometers; and Bellamax for steel alloys, gyroscopes and ball bearings.
Chinese authorities apparently do not control missile exports because of too much reliance on "foreign tips" and a reluctance to impose "catch-all" controls, the cable said.
One Chinese official was quoted as saying such controls are "not meant to catch everything." Another Chinese official was quoted as warning U.S. officials to back off pressuring Beijing because "China's business is its own business." source – Washington Times

NTEB is run by end times author and editor-in-chief Geoffrey Grider. Geoffrey runs a successful web design company, and is a full-time minister of the gospel of the Lord Jesus Christ. In addition to running NOW THE END BEGINS, he has a dynamic street preaching outreach and tract ministry team in Saint Augustine, FL.