Was there a secret plot to elect Cardinal Jorge Mario Bergoglio at the papal conclave last year?
"And I heard another voice from heaven, saying, Come out of her, my people, that ye be not partakers of her sins, and that ye receive not of her plagues." Revelation 18:4
No, it's not the plot to a brand-new Dan Brown thriller, it's actually what Catholic conservatives are now alleging after watching the dizzying rise to power of Jesuit priest Jorge Mario Bergoglio to sit on the Vatican throne as Pope Francis.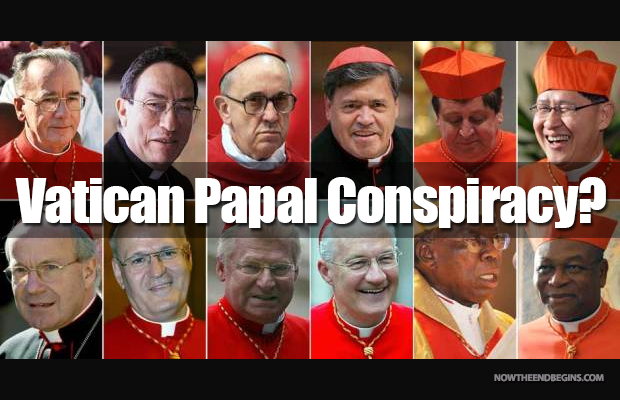 The furor stems from a behind-the-scenes account of the March 2013 conclave, presented in a new book about Francis titled "The Great Reformer: Francis and the Making of a Radical Pope."
In the last chapter of the biography, which focuses on Bergoglio's early life in Argentina and career as a Jesuit, author Austen Ivereigh delivers an insider account of how a group of cardinals who wanted a reformer pope quietly sought to rally support for Bergoglio in the days leading up to the conclave. A paragraph in the last chapter of the book is being rewritten as follows:
EXISTING WORDING:
They had learned their lessons from 2005. They first secured Bergoglio's assent. Asked if he was willing, he said that he believed that at this time of crisis for the Church no cardinal could refuse if asked.

NEW WORDING:
In keeping with conclave rules, they did not ask Bergoglio if he would be willing to be a candidate. But they believed this time that the crisis in the Church would make it hard for him to refuse if elected.
Pope Francis is all about change, radical change that the Catholic Church corporation has not ever seen. As we have been reporting, Francis has been working tirelessly to bring into the Roman tent all the world's major religions, with a special focus on wooing the Islam and the Muslim world. Vatican watchers see a One World Religion in the making. Francis has been very successful in wooing over to his side Protestant preachers with massive congregations and influence.
In the past year, both Joel Osteen and Rick Warren have allowed themselves to become recruiting tools for the Catholic church. Rick Warren went so far as to give an interview on the Catholic Network where he referred to Pope Francis as "our pope", sending shock-waves throughout mainline Christianity.
A few months ago, Francis attempted what many classify as a massive overreach in papal authority by attempting to welcome in the LGBT Movement into the Catholic church, which was shouted down vehemently by the conservative bishops. But the mere fact that he tried it shows the direction in which he is trying to take things, which could generate an irreparable church split.
But all parties close to the Vatican agree on one thing: Pope Francis is changing the Catholic system in very dramatic ways, with no end in sight to the alterations. Not since the very first pope, Constantine, in 325 AD, has there been this much movement on platform issues. The only question is, how far will he be allowed to go?

NTEB is run by end times author and editor-in-chief Geoffrey Grider. Geoffrey runs a successful web design company, and is a full-time minister of the gospel of the Lord Jesus Christ. In addition to running NOW THE END BEGINS, he has a dynamic street preaching outreach and tract ministry team in Saint Augustine, FL.