Obama silent about more "workplace violence" in America at the hand of Muslims
CHATTANOOGA, Tenn.—A 24-year-old Kuwaiti-born man opened fire at two military facilities here Thursday, killing four Marines and injuring three others before dying from a gunshot wound, authorities said. Law enforcement sources said that the shooting suspect was identified as 24-year-old Muhammad Youssef Abdulazeez. According to a U.S. law enforcement source, Abdulazeez was born in Kuwait and came to the United States in 1996.
According to U.S. Census Data, the United States admits roughly 100,000 Muslim immigrants legally each year, representing the fastest growing block of immigration into the United States. Tennessee, in fact, is home to one of the fastest growing immigrant populations in the country, causing the President to give a recent speech there in favor of expansive immigration. The Mayor of Nashville has launched a New American Advisory Council to help facilitate the legally-sanctioned transition from the previous inhabitants of Nashville to the new ones.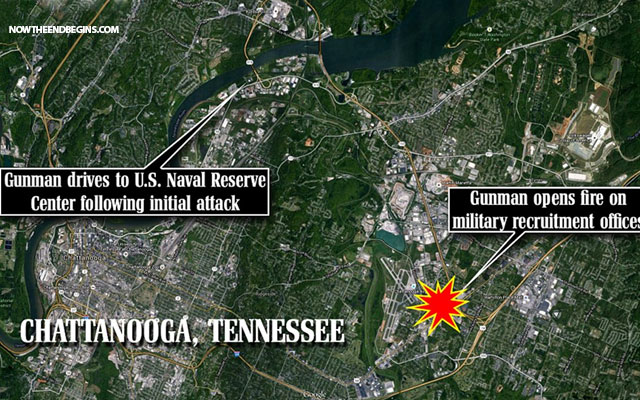 In Washington, President Barack Obama pledged a prompt and thorough investigation into the "heartbreaking" attack and said the White House had been in touch with the Pentagon to make sure military installations are being vigilant.
After the shooting, the Department of Homeland Security said in a statement that it was "enhancing the security posture at certain federal facilities, out of an abundance of caution."
Vice President Joe Biden likewise vowed: "We will get to the bottom of it."
Just like we got to the bottom of Benghazi, eh Joe?

NTEB is run by end times author and editor-in-chief Geoffrey Grider. Geoffrey runs a successful web design company, and is a full-time minister of the gospel of the Lord Jesus Christ. In addition to running NOW THE END BEGINS, he has a dynamic street preaching outreach and tract ministry team in Saint Augustine, FL.