Posts tagged
Ku Klux Klan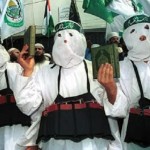 The religion of peace continues its evil ascent
Islamic jihadism continues to cast its dark shadow across the world. The atrocity in the Nairobi shopping center is a chilling reminder of the global reach of this vile ideology.
The reported death toll now stands at 62, with most of the victims singled out simply because they were not Muslims. That is sectarianism at its most lethal, where every last ounce of humanity is obliterated by a pitiless dogma.
Although the horror is still unfolding at the Westgate mall, it now seems certain that the attack was carried out by the Al-Shabaab group, a Somalian terror cell linked to the Al-Qaeda network.
RELATED SITE: Bare Naked Islam
Houses in the more affluent areas of the city had become mini-fortresses, complete with security grilles and metal doors. Now, as the corpses are removed from the Westgate center, all the grimmest forebodings have been realized.
Al-Shabaab's attack in Nairobi has largely been a murderous reaction to the decision by the Kenyan Government in 2011 to send troops into Somalia, under the umbrella of the African Union, to smash the terror regime there.
But we should not pretend that the loud-voiced grievances of the jihadists throughout the world have a shred of justification. The focus of their supposed victimhood varies — they blame anything from American foreign policy to the plight of the Palestinians — but their real aim is the same.
They want to establish a Muslim caliphate across the world, where Islam and sharia law reign supreme. In this religious empire, there is no room for dissent or democracy, no space for compromise or conciliation.
That is why, wherever they operate, the Muslim hardliners are so intolerant. The goal is totalitarian, their methods pure bigotry.
Only this weekend, while one gang of Islamic terrorists was causing mayhem in Nairobi, another gang was murdering 75 Christians at a church in the city of Peshawar in Pakistan, with another 110 innocent worshippers wounded.
And while we in Britain look on in horror at these appalling events in distant lands, the fact is that we cannot pretend that we are immune from the malevolent impact of the zealots in our own country.
It is not just that we have endured a number of serious terrorist attacks in recent years, most notably the London transport bombings in 2007. It is also the deeply worrying social and cultural influence of Muslim fundamentalism within Britain.
The aim of true multi-racialism should be to promote tolerance, understanding and integration. These are vital qualities if our increasingly diverse society is to function successfully.
The extremists are pushing in precisely the opposite direction, their eagerness to impose their fundamentalist, alien values is undermining harmony, with suspicion and division rising in their place.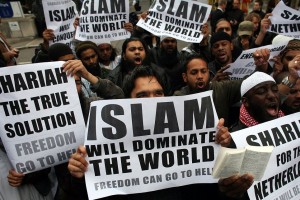 Only this weekend, this was graphically symbolised by reports of events at the Al-Madinah school in Derby, a free school established last year to cater mainly for Muslim pupils. Sadly, the hardliners appear to have taken over its management already.
It's claimed that, in defiance of all British traditions of tolerance, girls and boys are segregated at the school; that even non-Muslim staff are required to wear the hijab, the Muslim headscarf; and that stringed instruments, singing, the telling of fairy tales and even the use of the word 'pig' have all been banned. Such superstitious, divisive nonsense should have no place in a British school.
We are not living in rural Pakistan or a Taliban-run region in Afghanistan. Apart from anything else, the pupils are being deprived of a proper, rounded education and therefore will not have the same life chances in adulthood.
For far too long, the British authorities have turned a blind eye — out of misguided fear of being seen as racist — to the creeping prevalence of militant Islam in our midst. 
If the British authorities continue to allow the Islamic hardliners to have their way in the name of choice when it comes to segregating boys from girls in schools, or sharia courts, or insisting that women should be allowed to wear veils in all circumstances, then those hardliners will feel they are pushing at an open door.
We must, sadly, accept that there are people in our midst who want to see a hardline Islamist caliphate in Britain. And while the security and intelligence services are nothing less than heroic in their fight against Islamic extremists, continuing to foil terror plots on a regular basis, our civic institutions have in contrast been far too cowardly in their reluctance to challenge fundamentalism.
The shocking slaughter in Nairobi is the true face of Islamic fundamentalism. And we in Britain should never appease such a mentality. Read the whole article from Daily Mail UK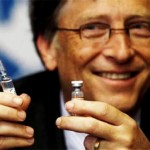 Definition of Eugenics: Study of human improvement by genetic means. The first thorough exposition of eugenics was made by Francis Galton, who in Hereditary Genius (1869) proposed that a system of arranged marriages between men of distinction and women of wealth would eventually produce a gifted race. The American Eugenics Society, founded in 1926, supported Galton's theories. U.S. eugenicists also supported restriction on immigration from nations with "inferior" stock, such as Italy, Greece, and countries of eastern Europe, and argued for the sterilization of insane, retarded, and epileptic citizens. Sterilization laws were passed in more than half the states, and isolated instances of involuntary sterilization continued into the 1970′s. source – Merriam Webster

Eugenics and Planned Parenthood: We recoil in horror when shown newsreel footage of the atrocities done by the Nazis during WWII, and rightly so. The Nazis under Hitler were one of the most inhumane and barbaric people ever to walk the face of this earth. They killed, tortured and mutilated their fellow human beings just for the sheer pleasure of it. Nazis believed that they could create an Aryan "master race" by breeding 'pure Germans' with each other while at the same time expunging from the population rolls all those they deemed as unfit to live. But these freakish notions did not die with Hitler. They are alive and well in every Planned Parenthood office across America.
The Negro Project: Planned Parenthood, founded by Margaret Sanger, has it's roots deeply steeped in Nazi ideals. Sanger was, first and foremost, a eugenicist – one who believed in the inferiority of non-white races. In 1939, she proposed the infamous "Negro Project," a plan developed at the behest of public-health officials in southern states, where she writes, "the most successful educational approach to the Negro is through a religious appeal. We do not want word to go out that we want to exterminate the Negro population and the Minister is the man who can straighten out that idea if it ever occurs to any of their more rebellious members." Sanger also attempted to set up birth-control clinics in poor New York City neighborhoods to target "Blacks, Hispanics, Slavs, Amerinds, Fundamentalists, Jews and Catholics."
Sanger was closely tied to Ernst Rudin, who served as Hitler's director of genetic sterilization. An April 1933 article by Rudin – entitled "Eugenic Sterilization: An Urgent Need" – for Sanger's monthly magazine, The Birth Control Review, detailed the establishment of the Nazi Society for Racial Hygiene and advocated its replication in the United States.
Eugenics and Bill Gates: Software billionaire Bill Gates, who previously has advocated the reduction of the human population through the use of vaccines, and his wife Melinda marked the 100th year since the First International Eugenics Congress in London with a "family planning" summit with abortionists and the United Nations.
The July 11 event, co-hosted by the United Kingdom Department for International Development, included organizations such as Planned Parenthood, Marie Stopes International and the U.N. Populations Fund, as well as the Bill and Melinda Gates Foundation.
Critics pointed out the summit was held 100 years after the July 1912 eugenics conference led by Leonard Darwin, the son of Charles Darwin, and dedicated to Darwin's half-cousin Francis Galton. Galton invented the term eugenics to promote the idea that strategic breeding would improve mankind.
According to Christian Voice, a ministry that analyzes current events and acts on Scriptural instructions for "a better way, God's way," the 1912 event promoted the "notion that economics can be improved by decreasing the surplus population," based on the theories of Thomas Malthus.
The 17th century luminary suggested that the poor were "draining the world's resources," and a solution would be "to introduce policies specifically designed to bring death to large numbers of peasants."
Gates made his remarks to the invitation-only Technology, Entertainment and Design 2010 Conference in Long Beach, Calif. His February address was titled "Innovating to Zero!"
He presented a speech on global warming, stating that CO2 emissions must be reduced to zero by 2050. Gates said every person on the planet puts out an average of about five tons of CO2 per year.
"Somehow we have to make changes that will bring that down to zero," he said. "It's been constantly going up. It's only various economic changes that have even flattened it at all. So we have to go from rapidly rising to falling, and falling all the way to zero."
Gates presented the following equation: CO2 (total population emitted CO2 per year) = P (people) x S (services per person) x E (average energy per service) x C (average CO2 emitted per unit of energy)
"Let's look at each one of these and see how we can get this down to zero," he said. "Probably one of these numbers is going to have to get pretty near to zero. That's a fact from high school algebra."
Discussing the "P," or population portion of the equation, he stated, "Let's take a look. First we got population. The world today has 6.8 billion people. That's headed up to about 9 billion. Now if we do a really great job on new vaccines, health care, reproductive health services, we could lower that by perhaps 10 or 15 percent" [emphasis added].
Further, he said it would not be hard to keep track of children, the vaccines they've had and when they're due for another.
He said cell phone technology could be used to register every birth around the globe and track children to make sure they have been vaccinated as government advisers urge.
The massive effort was discussed by Gates at a mHealth Summit, which delved into the issues of technology and health. According to Natural News, Gates told the conference that the goal is a lower population, and using vaccines to improve early childhood health is a step in that direction. "That sounds paradoxical," he said. "The fact is that within a decade of improving health outcomes, parents decide to have [fewer] children."
"If you could register every birth on the cell phone, get fingerprints, get a location, then you could take the systems where you go around and make sure the immunizations happen," he said. "Run them in a more effective way."
WND also reported in May 2009 when Gates joined some of the richest men and women in the world meeting secretly in New York to talk about using their vast wealth to bring the world's population growth under control. source – WND