The Middle East Will Be The Islamist Caliphate Confederacy Spoken Of In Psalm 83
The 'New' Middle East Was Foretold 3,000 Years Ago
RELATED STORY: Israel, the Middle East, and the Coming Day of the Lord
"They have said, Come, and let us cut them off from [being] a nation; that the name of Israel may be no more in remembrance. For they have consulted together with one consent: they are confederate against thee:" Psalm 83:4,5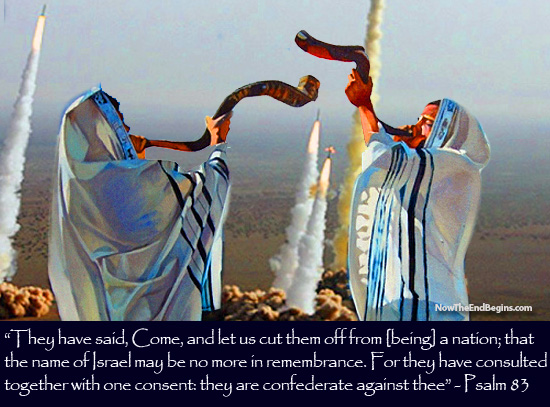 Haniyeh: Muslims are creating the new Middle East
FROM THE JERUSALEM POST: Hamas Prime Minister Ismail Haniyeh declared Sunday that the Muslim revolutions born out of the "Arab Spring" would replace US-backed chaos in the Middle East, Hamas affiliate Al Resalah quoted the Hamas leader as saying.
"We are among those who will create a new Middle East. We have created a glorious revolution that will bring back the nation and its glory in place of the chaos that the American administration had so desired," Haniyeh told a gathering of Tunisian Islamist Ennahda party supporters in Tunis.
According to the report, tens of thousands of Tunisians gathered outside the palatial government complex in the Tunisian capital to see Haniyeh speak, chanting in support of "Palestinian liberation."
Protesters also chanted "Death to Israel" and "the army of Mohammed is back," as Haniyeh reiterated his pledge not "to lay down our arms" or recognize Israel, according to AFP.
The Ennahda party, banned under the rule of ousted Tunisian president Zine El Abidine Ben Ali, has since become the country's largest party, garnering 40 percent of votes in last October's parliamentary elections. Haniyeh has traveled Arab and Muslim nations on a Middle East tour that began December 25, including Egypt, Sudan, Turkey and Tunisia.
While most meetings with the Hamas prime minister and Arab officials have been held behind closed doors, Haniyeh has made several public appearances during his trip, including one from aboard the Turkish vessel from which Turkish activists made a fatal attempt to break the Israeli naval blockade on Gaza in 2010.He has championed issues ranging from stopping the "Judaization of Jerusalem," the IDF blockade on Gaza to the so-called Arab Spring revolutions that he claims have influenced favorably the Palestinian cause.Haniyeh toured the Middle East shortly after meeting with Fatah in Cairo, along with other Palestinian political factions, where the groups agreed to join the PLO in to create a unity Palestinian government.
Still, on Sunday, Palestinian Authority President Mahmoud Abbas announced he would have to "re-evaluate" reconciliation agreements after Hamas refused a Fatah visit to the Gaza Strip, underlining ongoing tensions between the Islamist group that rules Gaza and the PA. source – JPost
No comments yet.

about 1 week ago - 37 comments