America's #1 Export Under Obama? DEBT!
Biden to sell debt ceiling deal during trip to China, Japan
Vice President Biden will tout the debt ceiling deal during a trip to China and Japan, two holders of huge amounts of U.S. debt.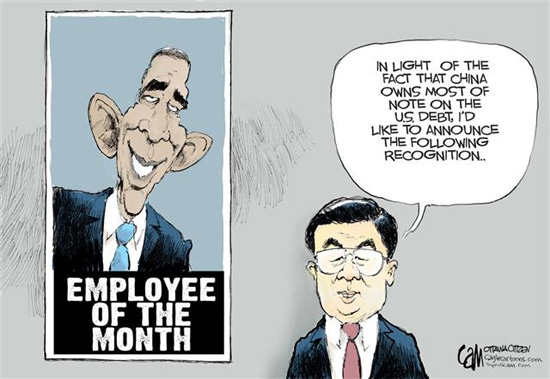 Biden will travel to top lender China on Wednesday and to Japan, the second-biggest holder of U.S. bonds, on Aug. 22. The vice president "will be in a good position to talk about the very strong deficit package that we concluded here recently," Undersecterary of the Treasury Lael Brainard told reporters Monday in comments previewing the vice president's visit.
The debt-ceiling deal signed by President Obama could cut up to $2.5 trillion from budget deficits over the next decade, but it was a smaller package than the grand bargain Obama flirted with striking.
Standard & Poor's downgraded the nation's AAA rating to AA+ a few days after Obama signed the legislation. S&P had called for a $4 trillion package, and said it was left uncertain that U.S. politicians could agree to a larger deficit-reduction package. source – The Hill

about 1 month ago - 11 comments
Five millions tons of rubbish made up of devastated homes, boats, cars and businesses is making its way across the Pacific Ocean following the 2011 tsunami in Japan. Scientists have already discovered debris on the west coast but their latest findings suggest California is expected to be hit with a deluge all at once.
Comments are closed.