Democrat Congresswoman Calls For Investigation Of 'Christian Militants'
Christians are the real threat, not Islam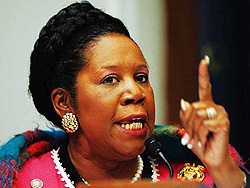 At a congressional hearing on Muslim radicalization in U.S. prisons, Rep. Sheila Jackson Lee (D-Texas) said that investigators needed to analyze Christian militants in America because they too might try to "bring down the country."
In an exchange with witness Patrick Dunleavy, the former deputy inspector of the criminal intelligence unit, New York Department of Correctional Services, Rep. Jackson Lee mentioned the case of a man who blew up an abortion clinic and proposed that this perhaps was an attempt to undermine U.S. law that allows a woman to procure an abortion.
Rep. Lee then said, "As we look to be informational, we should include an analysis of how Christian militants or others might bring down the country. We have to look broadly, do we not?"
Dunleavy answered: "I don't know that Christian militants have foreign country backing or foreign country financing." Lee then said, "I don't think that's the issue. The issue is whether or not their intent is to undermine the laws of this nation. And I think it is clear that that is the case. So it's not — your distinction is not answering the question." source – CNS
Related
about 2 years ago - 27 comments
Rep. Sheila Jackson Lee (D-Texas) on Friday strongly suggested that members of Congress are making it difficult for President Obama to raise the debt ceiling because of his race. "I do not understand what I think is the maligning and maliciousness [toward] this president," said Jackson Lee, a member of the Congressional Black Caucus. "Why is he different? And in my community, that is the question that we raise. In the minority community that is question that is being raised. Why is this president being treated so disrespectfully? Why has the debt limit been raised 60 times? Why did the leader of the Senate continually talk about his job is to bring the president down to make sure he is unelected?"
Earlier in her speech, Jackson Lee said Obama has been targeted unlike any other president.
Comments are closed.