To Spite Israel Obama Is Ready To Remove Iran Sanctions 'Quickly'
When Iran, in the next year or so, finally gets all the parts and pieces together to complete work on their nuclear arsenal, you will have one country and one man to thank for that accomplishment. America will be complicit in allowing Iran to build atomic weapons whose sole purpose is to launch them against Israel, and Barack Obama will be the architect of that evil deed.
From Telegraph UK: The world risks making a 'historic mistake' if it eases the pressure on Iran over its nuclear programme, Benjamin Netanyahu, the Israeli prime minister, warned on the eve of crucial negotiations to resolve the crisis. source – Telegraph UK
From The Hill: The Obama administration said Monday it's ready to "quickly" lift sanctions on Iran if the country answers the international community's concerns about its nuclear program. The comments on the eve of new negotiations in Geneva are at odds with the position of many lawmakers of both parties in Congress, who want to increase — not decrease — the pressure on Iran.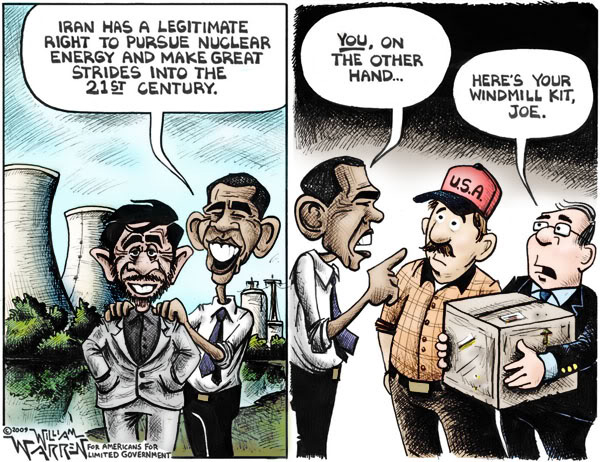 "We are quite ready to move," a senior administration official told reporters ahead of the negotiations. "If they're ready to go, we are ready to go. But it depends on what they put on the table."
"I think that the core sanctions architecture that not only the United States but the entire international community has put in place … all can be addressed if Iran addresses all of our concerns and all of their obligations and responsibilities under the NPT [Nuclear Non-Proliferation Treaty] and U.N. Security Council resolutions," the official continued.
Asked if that meant that the administration is ready to move "quickly" if Iran does, the official answered: "Yes." source – The Hill
| | | |
| --- | --- | --- |
| | Print article | This entry was posted by NTEB News Desk on October 15, 2013 at 1:06 pm, and is filed under Al-Qaeda, American Spring, Americanistan, Headline News, Islam, Islamic Terrorism, Israel, Liberals, Middle East, Military, Nuclear War, Obama, One World Government. Follow any responses to this post through RSS 2.0. Both comments and pings are currently closed. |

about 5 days ago - 270 comments
On Sunday evening, starting at 8:45PM EST, our THE WISE SHALL UNDERSTAND Radio Show will be broadcasting live this very important show. There will be a live chat room, a free gospel tract giveaway, and we will be taking your calls and questions all until 11:00PM EST.
Comments are closed.