Obama Conspires With Tech Giants To Create US Surveillance State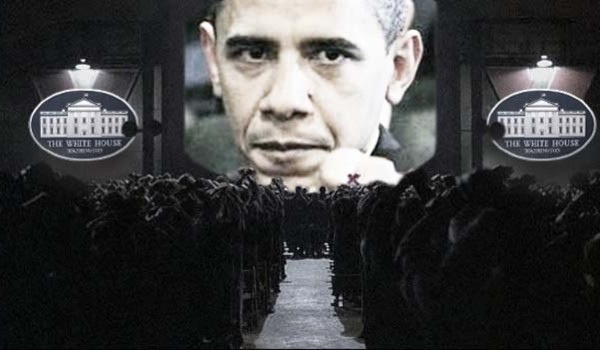 President Barack Obama hosted Apple CEO Tim Cook, AT&T CEO Randall Stephenson, Google computer scientist Vint Cerf and other tech executives and civil liberties leaders on Thursday for a closed-door meeting about government surveillance, sources tell POLITICO.
The session, which Obama attended himself, followed a similar gathering earlier this week between top administration officials, tech-industry lobbyists and leading privacy hawks, the sources said. Those earlier, off-the-record discussions centered on the controversy surrounding the NSA as well as commercial privacy issues such as online tracking of consumers.
The White House has declined to provide any details about its new outreach since the beginning of the week. A spokesman didn't comment Thursday about the high-level meeting with the president — and the companies and groups invited also kept quiet when contacted by POLITICO.
Obama has promised more public debate about the country's counterterrorism policies and privacy safeguards amid a deluge of criticism about the NSA's controversial surveillance programs. As the steady stream of revelations continues, however, the White House has chosen to meet quietly with tech executives and consumer groups behind closed doors.
The administration's outreach began Tuesday, when chief of staff Denis McDonough and general counsel Kathy Ruemmler convened a privacy-focused huddle in the Roosevelt Room. Joining them were representatives from the Information Technology Industry Council, TechNet and TechAmerica, which together represent a diverse swath of the tech industry — from major defense contractors to companies like Facebook, Google, Yahoo and Microsoft. The American Civil Liberties Union and the Electronic Privacy Information Center were also present, sources said.
While the White House at the time declined to comment, one administration aide, speaking to POLITICO ahead of the Tuesday session, portrayed it as part of a larger campaign. source – Politico
| | | |
| --- | --- | --- |
| | Print article | This entry was posted by NTEB News Desk on August 9, 2013 at 5:36 pm, and is filed under Americanistan, Conspiracy Theory, DARPA, Doomsday Preppers, Facebook, Google, HAARP, Headline News, Liberals, Mark of the Beast, Martial Law, Media, Military, New World Order, Obama, One World Government, Police State, Politics, Singularity, The 666 Surveillance System, The Patriot Resistance, Traitors, Washington. Follow any responses to this post through RSS 2.0. Both comments and pings are currently closed. |

about 5 days ago - 269 comments
On Sunday evening, starting at 8:45PM EST, our THE WISE SHALL UNDERSTAND Radio Show will be broadcasting live this very important show. There will be a live chat room, a free gospel tract giveaway, and we will be taking your calls and questions all until 11:00PM EST.
Comments are closed.