Hamas Declares WAR As Israel Begins 'Operation Pillar Of Defense' In Gaza
Israel starts Operation Pillar Of Defense
"And the LORD went before them by day in a pillar of a cloud, to lead them the way; and by night in a pillar of fire, to give them light; to go by day and night: He took not away the pillar of the cloud by day, nor the pillar of fire by night, from before the people." Exodus 13:21,22
The IAF struck and killed Hamas's head of military operations Ahmed Jabari in central Gaza on Wednesday. The strike marked the beginning of Operation Pillar of Defense to target Hamas and Islamic Jihad terror organizations in Gaza, IDF spokesman Yoav Mordechai announced.
Hamas has announced a general call-up and threatened to respond not just with rockets but suicide attacks. Israeli sources say the air operation called Pillar of Cloud is underway against more Hamas leaders and its military infrastructure and rocket stocks across the Gaza Strip until peace is restored to southern Israel. – DEBKA
"The first aim of this operation is to bring back quiet to southern Israel, and the second target is to strike at terror organizations," Mordechai said. "The homefront must brace itself resiliently," he added, describing Jabari as a man with "a lot of blood on his hands."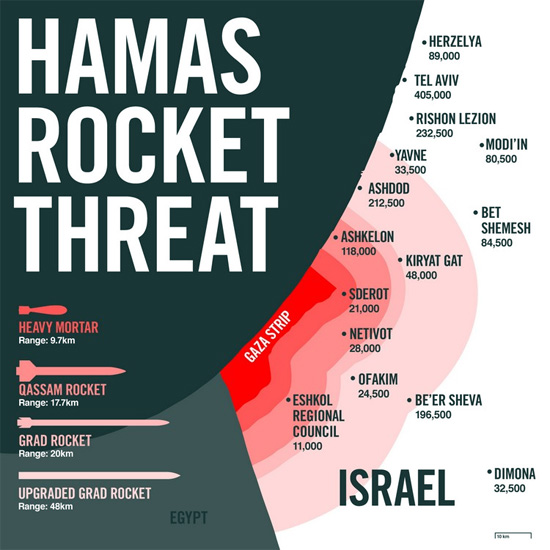 The IDF says Jabari carried out and ordered numerous terror attacks against Israel, including the abduction of Israeli soldier Gilad Schalit and the firing of hundreds of rockets in recent years.
Mordechai added that Gaza is a "forward Iranian base," adding that the latest campaign of air strikes targeted most of the long-range offensive capabilities in the hands of Hamas and Islamic Jihad.
He added that columns of smoke were visible around Gaza.
Shortly after Mordechai's annoucement, the IAF struck over 20 underground rocket launchers belonging to Hamas and Islamic Jihad. The airstrikes targeted long-range rockets in the possession of terror organizations, such as the Fajr-5 and other rockets that are capable of striking Tel Aviv from Gaza. Palestinian sources said that six Gazans were killed in the IDF strikes.
The IDF believes it has eliminated the majority of the long-range threat.
The majority of the Gaza weapons storage sites were located in civilian residential buildings, the IDF confirmed. "This is further evidence of the pattern of Hamas to use the population in Gaza as human shields," the IDF stressed.
The IDF has urged civilians to pay attention to instructions from the Home Front Command in light of the developments.
In response to the attacks, Hamas said that "the occupation has opened the gates of hell."
Senior Hamas official Izzat al-Rishq said the assassination will not "break the will of our people, nor weaken our resistance,"Al Ahram reported. Al-Rishq made the comments on his Facebook site, adding that Prime Minister Binyamin Netanyahu is using the "war crime" to boost his chances of reelection, but that it could "cost him his political future."
Wednesday's violence came after a four-day rocket barragewhich began Saturday appeared to have come to an end on Tuesday evening. The hostilities saw over 100 rockets fired from the Gaza Strip into Israel and Israeli retaliatory strikes which killed six Palestinians.
Both Israel and Hamas sent signals to each other via Egypt that they would hold their fire unless attacked, after five days of mounting violence. source – JPost
Related
| | | |
| --- | --- | --- |
| | Print article | This entry was posted by NTEB News Desk on November 14, 2012 at 8:17 pm, and is filed under End Times, Headline News, Islamic Terrorism, Israel, Israel Tours, Jihad Islami, Middle East, Military, Muslim Brotherhood, Obama, Palestinian Statehood. Follow any responses to this post through RSS 2.0. Both comments and pings are currently closed. |

about 1 week ago - 10 comments
Comments are closed.