What will take place on May 21?
The following information was taken directly from Harold Camping's Family Radio website describing the end times events that he says must take place on May 21. Mr. Camping promises that the information he is giving you is directly given by God in the bible and guarantees the accuracy of his predictions. Now, since he is claiming the standard of the bible for his predictions, then he must also be held to the biblical standard for what should happen to false prophets. "But there were false prophets also among the people, even as there shall be false teachers among you, who privily shall bring in damnable heresies, even denying the Lord that bought them, and bring upon themselves swift destruction. And many shall follow their pernicious ways; by reason of whom the way of truth shall be evil spoken of. And through covetousness shall they with feigned words make merchandise of you: whose judgment now of a long time lingereth not, and their damnation slumbereth not." 2 Peter 2:1-3
"On May 21, 2011 two events will occur. These events could not be more opposite in nature, the one more wonderful than can be imagined; the other more horrific than can be imagined.
A great earthquake will occur the Bible describes it as "such as was not since men were upon the earth, so mighty an earthquake, and so great." This earthquake will be so powerful it will throw open all graves. The remains of the all the believers who have ever lived will be instantly transformed into glorified spiritual bodies to be forever with God.
On the other hand the bodies of all unsaved people will be thrown out upon the ground to be shamed. The inhabitants who survive this terrible earthquake will exist in a world of horror and chaos beyond description. Each day people will die until October 21, 2011 when God will completely destroy this earth and its surviving inhabitants.
What about all those in the past who predicted Jesus would come in their day?
Many religious groups and individuals throughout history have predicted Jesus' return, but they were always wrong. No theologian, no matter how learned or intelligent, could know the day because God had not revealed it. The scriptural evidence needed to know the exact day could not be known before 1988, the year the 'Church age' ended. The Bible indicates prior to this year that date could not be known. Many Church leaders of the past looked at political as well as natural events to prove their predictions and they were repeatedly wrong.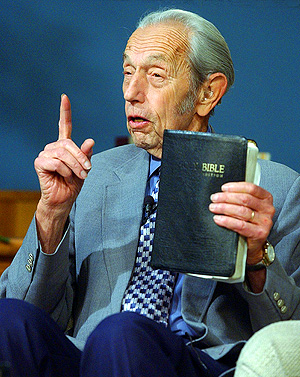 The Bible has led us to May 21, 2011
This date is not the product of the mind of one man or a group of men. It is the culmination of study of the entire Bible, both the Old and New Testaments. Every word written in the original Biblical "autographs" were dictated by God, therefore all words, numbers and sentences in these original writings are to be trusted as coming from God.
The fact that this date is the result of the synthesis of all of Scripture causes May 21st, 2011 to take on very sobering factuality. It is no longer opinion, but a matter of fact.
May 21, 2011 is God's date. All other predictions are man's attempt to predict the end. So it becomes a matter of eternal life, or eternal death. One can no longer presume May 21st of this year will be just another normal day. Each person must come to entrust their lives to what God has written in His Word the Bible and plead to Him for mercy. Otherwise God will come upon them with unmerciful vengeance on May 21, 2011.
God is the guardian of His secrets. The words needed to know the time of the end "are closed up and sealed till the time of the end"
Only Christ Jesus, the "Lamb," is able to unseal the Bible, and reveal what is needful to know the day and the hour of His return."
source – Family Radio

NTEB is run by end times author and editor-in-chief Geoffrey Grider. Geoffrey runs a successful web design company, and is a full-time minister of the gospel of the Lord Jesus Christ. In addition to running NOW THE END BEGINS, he has a dynamic street preaching outreach and tract ministry team in Saint Augustine, FL.