"Here is wisdom. Let him that hath understanding count the number of the beast: for it is the number of a man; and his number is Six hundred threescore and six." Revelation 13:18
Funny how that number seems to follow Obama everywhere he goes, isn't it?
The debt of the U.S. government has increased $6.666 trillion since President Barack Obama took office on Jan. 20, 2009, according to the latest numbers released by the Treasury Department.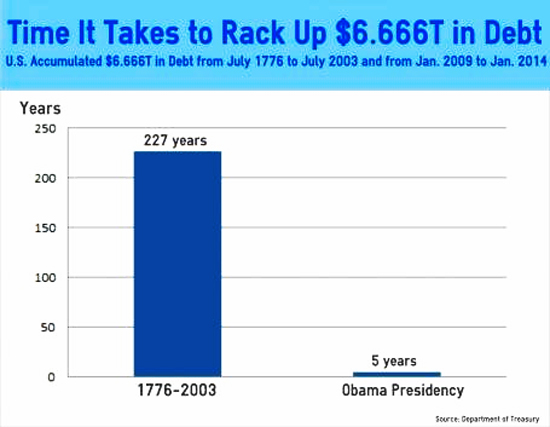 When President Obama was first inaugurated on Jan. 20, 2009, the debt of the U.S. government was $10,626,877,048,913.08, according to the Treasury Department's Bureau of the Public Debt. As of Jan. 31, 2014, the latest day reported, the debt was $17,293,019,654,983.61—an increase of $6,666,142,606,070.53 since Obama's first inauguration.
The total debt of the United States did not exceed $6.666 trillion until July 2003. In the little more than five years of the Obama presidency, the U.S. has accumulated as much new debt as it did in it's first 227 years. source – CNS

NTEB is run by end times author and editor-in-chief Geoffrey Grider. Geoffrey runs a successful web design company, and is a full-time minister of the gospel of the Lord Jesus Christ. In addition to running NOW THE END BEGINS, he has a dynamic street preaching outreach and tract ministry team in Saint Augustine, FL.