JAKARTA, Indonesia (AP) — A powerful earthquake has hit waters of western Indonesia, prompting local officials to issue a tsunami warning.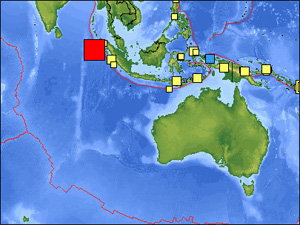 The U.S. Geological survey said the quake had a preliminary magnitude of 7.3 and struck 260 miles (420 kilometers) off the coast of Aceh province.
It was centered 18 miles (30 kilometers) beneath the ocean floor. Arief Akhir, an official with Indonesia's geological agency, said a tsunami warning has been issued.
Indonesia is prone to seismic upheaval due to its location on the Pacific "Ring of Fire," an arc of volcanos and fault lines encircling the Pacific Basin.
A giant quake off the country on Dec. 26, 2004, triggered a tsunami in the Indian Ocean that killed 230,000 people, half of them in Aceh. source – Yahoo News

NTEB is run by end times author and editor-in-chief Geoffrey Grider. Geoffrey runs a successful web design company, and is a full-time minister of the gospel of the Lord Jesus Christ. In addition to running NOW THE END BEGINS, he has a dynamic street preaching outreach and tract ministry team in Saint Augustine, FL.