A House Divided
Please call your Senators and Congressmen and tell them NO on attacking Syria. We have no business going in there, and it will only strengthen and empower the Al-Qaeda Syrian rebels. Call your Congressman and send a STRONG MESSAGE to President Obama that you are not standing with him.
From WashPost: House Minority Leader Nancy Pelosi (D-Calif.) said she's not sure whether a majority of House Democrats will support the use of force in Syria.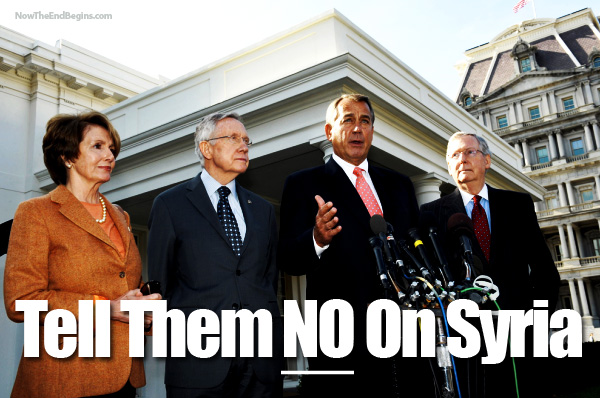 "I don't know," Pelosi said in an interview with Time magazine. "I think it would be important to get a majority in the Congress. But I don't know if it's important how you would break it down. These issues are not really partisan."
Despite Pelosi's comments, it has become clear that a strong majority of House Republicans are likely to oppose the resolution, meaning it would need strong support among Democrats to pass in the GOP-controlled House.
So far, The Fix's whip count has 22 House Democrats opposing military action and 23 leaning toward opposing it. Combined, that means about one-quarter of House Democrats are likely to vote "no," at this point. source – WashPost

NTEB is run by end times author and editor-in-chief Geoffrey Grider. Geoffrey runs a successful web design company, and is a full-time minister of the gospel of the Lord Jesus Christ. In addition to running NOW THE END BEGINS, he has a dynamic street preaching outreach and tract ministry team in Saint Augustine, FL.