The incredible cloud formation dubbed the 'Hand of God' was spotted over the Portuguese island of Madeira
"I will teach you by the hand of God: that which is with the Almighty will I not conceal." Job 27:11 (KJV)
An incredible cloud formation which appeared over the skies of Portugal has been dubbed the 'hand of God'. The cloud took the form of a fist from Heaven with a hand holding a fireball as it dominated the skyline across the island of Madeira on Monday.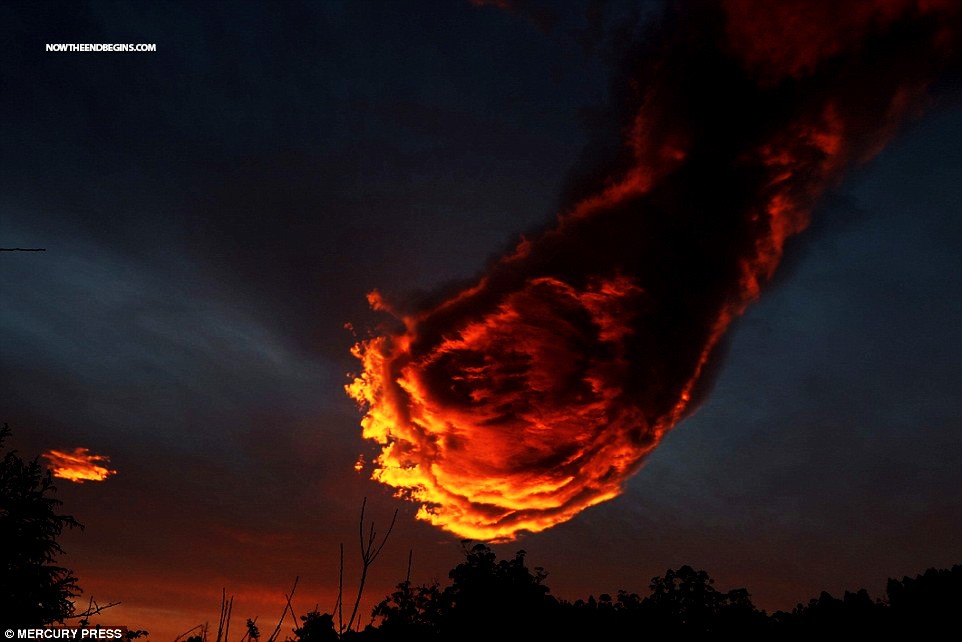 And weather blogger Rogerio Pacheco, 32, could not believe his luck when he looked up at the clouds while commuters made their way to work in the morning rush hour.
The awe-inspiring snaps have since been shared online after Mr Pacheco opted to post them on his blog.
Amazed onlookers have compared the bright orange cloud to everything from a flaming fist of fury to the iconic comet featured in the classic video game Final Fantasy VII.
Mr Pachero said: 'As soon as I saw the sky, I was immediately intrigued and I just had to grab my camera to take photo.'
"Humble yourselves therefore under the mighty hand of God, that he may exalt you in due time: Casting all your care upon him; for he careth for you." 1 Peter 5:6,7 (KJV)

NTEB is run by end times author and editor-in-chief Geoffrey Grider. Geoffrey runs a successful web design company, and is a full-time minister of the gospel of the Lord Jesus Christ. In addition to running NOW THE END BEGINS, he has a dynamic street preaching outreach and tract ministry team in Saint Augustine, FL.