Saudi Arabia has 100,000 air-conditioned tents sitting empty, still won't take Syrian refugees
EDITOR'S NOTE: Muslim countries do not want the Muslim migrants because this has nothing to do with "repressed people" fleeing any country for their own safety. This is about a hostile Muslim takeover of non-Muslim lands in an effort to use biological jihad to colonize them for Allah. The proof of this is the fact that none of the Muslims are attempting to enter Muslim-run countries, only non-Muslim run countries. This is jihad, and nothing less. And by the way, you do know that Obama has quietly been bringing in 250,000 Muslim "migrants" into the US every year, right? It might be time for you to wake up…
As Saudi Arabia faces mounting criticism for refusing to take in any of the millions of Syrian Muslim migrants fleeing conflict in their homeland, it was revealed this weekend that the country has over 100,000 empty, air-conditioned tents that could house up to 3 million refugees.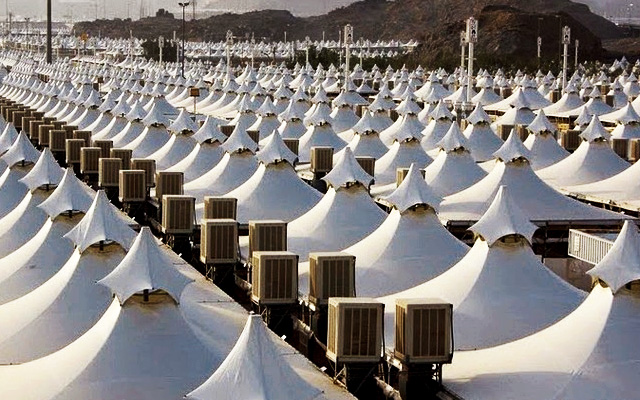 The tents, located roughly 2,150 miles from Syria in the city of Mina, are only used a few days a year to house pilgrims on their way to Mecca for the hajj, the news station TeleSUR reported. The huge tents are also fireproof and equipped with kitchen and bathroom facilities.
But while Europe struggles to find space to take in the millions of asylum seekers making the perilous journey there, Saudi Arabia has been largely unresponsive to the crisis.
According to the to the U.N. High Commissioner for Refugees (UNHCR), there are about 500,000 Syrians living in Saudi Arabia, but they are not classified as asylum seekers and it is not known when they arrived in the country.
Other reports indicate that Saudi Arabia has not taken in any new refugees, along with Kuwait, Qatar and the United Arab Emirates.
No Gulf country has signed the U.N. Convention on Refugees, an accord standardizing the level of treatment of people fleeing to new countries.
Saudi authorities insist they had done all they can to support refugees by allowing them residency in the country, but say they do not brag about their support to the media.
"[The kingdom] was keep to not deal with them as refugees or to put them in refugee camps," said one Saudi spokesman Friday, Reuters reported, adding they did so to "preserve their dignity and safety and gave them complete freedom of movement."
The representative added that Saudi Arabia has given $700 million in humanitarian aid to Syrians.
Last week Saudi officials offered to build 200 new mosques in Germany to accommodate Muslim refugees. source

NTEB is run by end times author and editor-in-chief Geoffrey Grider. Geoffrey runs a successful web design company, and is a full-time minister of the gospel of the Lord Jesus Christ. In addition to running NOW THE END BEGINS, he has a dynamic street preaching outreach and tract ministry team in Saint Augustine, FL.