Ukraine warned last night that 80,000 Russian troops were massing on its borders and could invade – as world leaders told Vladimir Putin to back off.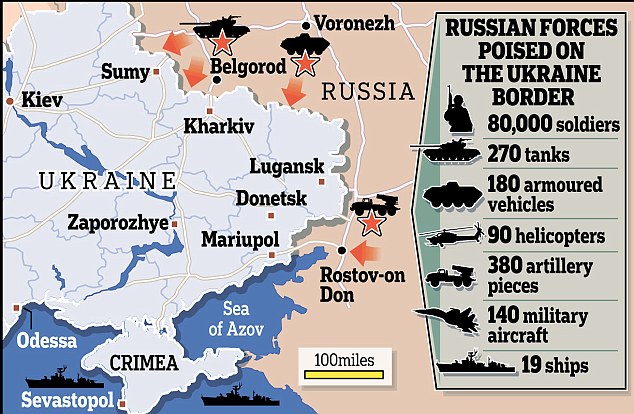 A senior security chief in Kiev said Moscow could launch a full-scale  invasion and Russian troops would be in the Ukrainian capital within 'two or three hours' of the order to advance.
Photographs of Russian tanks and armoured personnel carriers close to Ukraine's borders added to tensions.
Last night senior British officials told the Mail they had received reports about Russian troops massing on the border since Tuesday and were concerned by the show of force.
British intelligence is unsure whether the movements are intended to back up the annexation of Crimea, preparation for an invasion or simply defensive.
Moscow's show of force came as Ukraine's new prime minister, Arseniy Yatsenyuk, met Barack Obama in  the Oval Office and Nato continued military exercises in Poland. source – Daily Mail UK

NTEB is run by end times author and editor-in-chief Geoffrey Grider. Geoffrey runs a successful web design company, and is a full-time minister of the gospel of the Lord Jesus Christ. In addition to running NOW THE END BEGINS, he has a dynamic street preaching outreach and tract ministry team in Saint Augustine, FL.