The estimated 832 deaths and 912 injuries from the estimated 60 attacks that have taken place across about 19 countries during the first 12 days of this year's holy Muslim month of Ramadan have already marked the bloodiest Ramadan in recent years for adherents of Islam.
"I will cast terror into the hearts of those who disbelieve. Therefore strike off their heads and strike off every fingertip of them"
Qu'ran 8:12 
EDITOR'S NOTE: The Muslim month-long-holiday of Ramadan means a lot of things to a lot of people. And for nearly 1,000 people during the first 12 days of the "celebration", it means death. Why? Because they were killed by Muslims celebrating Ramadan. Wouldn't it be great if we lived in a world where, instead of "fasting and praying" for 30 days, Muslims simply refrained from killing innocent people? Keep dreaming…
Jihadists believe martyrdom is doubly rewarded in paradise during Ramadan. Jihadist groups encourage martyrdom among their sympathizers and followers, promoting the belief that they will be doubly rewarded if they fatally castigate infidels during Ramadan. The holy month this year is on track to surpass the deadliest and bloodiest Ramadan in the modern record: Ramadan 2016.
Ramadan 2016 featured 1,150 casualties — both death and injuries. This year, terrorists – namely the Islamic State (ISIS/ISIL), Taliban, and al-Qaeda, among other jihadists – have already killed or wounded more than 1,500 people across about 15 countries and there are still about 20 days left in the month.
During the first 12 days of Ramadan 2017 period, there have been an estimated 60 terror attacks carried out in the name of Allah (by Islamic extremists) resulting in the death of 832 people and injury of 912.
The death toll for the first few days of Ramadan this year has already surpassed the fatalities that occurred during the entire holy month last year —  421 deaths and 729 injuries. Among the 2016 fatalities are women, children, and members of the Christian minority. This year is no exception.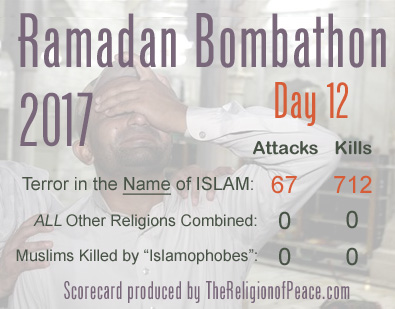 There are members of a wide variety of ethnic and religious groups among the victims: Westerners, Christians, Asians, Sunnis, Shias, and Arabs. Muslims of all sects made up the majority. As recent attacks in England, Germany, and France show, the West is not immune to the Islamic extremists' call to attack during Ramadan.
This year, the first full day of Ramadan fell on May 27. Muslims follow the tradition of abstaining from eating, drinking, smoking, having sex, and other physical needs each day, starting from before the break of dawn until sunset during the holy month.
Breitbart News' count, gleaned from the Religion of Peace website in coordination with news reports, excludes the number of casualties directly linked to battles between U.S.-led coalition troops and jihadists groups, as well as Iranian- and Russian-backed troops loyal to dictator Bashar al-Assad.
If all of the deaths from the ongoing conflicts in Syria, Iraq, Libya, and Afghanistan had been included, the total number would be much higher. The Religion of Peace website acknowledges their estimate is an undercount, so the number of Ramadan deaths and injuries could be higher.
Some of the terrorist attacks during Ramadan 2017 include:
May 27 — Charchino, Afghanistan — Group fighting in favor of imposing Islamic law ambushes checkpoint, kills 11.
May 27 — Qadis, Afghanistan — Taliban kills 14, injures 17.
May 27 — Khost, Afghanistan — Taliban suicide bomber targets U.S-backed National Defense and Security Forces (ANDSF), which includes army and police units, killing 18, woundin six others, including children.
May 27 — Kacha Khuh, Pakistan — "Honor Killing" — Brother hacks 18-year-old sister with axe to death for denying to abide by pre-arrange marriage.
May 27 — Marawi, Philippines — Jihadists kill 19 including women and a child.
May 28 — Marawi, Philippines — Jihadists murder 8 for "having betrayed their faith."
May 28 — Ramo Adey, Somalia — Jihadists bury man to his neck, stone to death for adultery
May 28 — Mosul, Iraq — ISIS sets hospital ablaze and kills a dozen young people inside.
May 28 — Mosul, Iraq — ISIS kills at least 40 women and children trying to flee besieged city.
May 28 — Shirqat, Iraq — ISIS rocket attack kills three children and their parents.
May 28 — Gumsri, Nigeria — Boko Haram kills at least seven villagers.
May 28 — Shakhil Abad, Afghanistan — Islamic extremists kill district governor and his son inside their home.
May 28 — Baqubah, Iraq — Suicide bomber kills 3, injures up to 16 others outside court.
May 29 — Nguro, Nigeria — Boko Haram beheads five people.
May 29 — Ghat, Libya, — Suspected Islamic terrorists kill 1, injure 4.
May 29 — Shirqat, Iraq — Islamic shrapnel dismembers a child, injures 7.
May 29 — Baghdad, Iraq — 17 killed, 32 wounded — ISIS launches suicide attack against ice cream parlor frequented by families who were breaking their Ramadan fast.
May 29 — Baghdad, Iraq — 14 killed, 37 injured. ISIS attacked Shiites.
May 30 — Mattani, Pakistan — Islamist gun down four peace committee members.
May 30 — Peshawar, Pakistan — Suspected jihadist shoots leader of Afghan warlord Gulbuddin Hekmatyar's Hezb-i-Islami group while he was leaving a mosque.
May 30 — Shifa, Iraq — Mass grave found with 60 ISIS torture victims, including women, elderly.
May 30 — al-Joura, Syria — ISIS mortar kills 14, including children.
May 30 — Bay Hassan, Iraq — ISIS kills 3 Iraqi guards, wounds six others.
May 30 — Baghdad, Iraq — Jihadists kill 7, injure 19 in a blast.
May 30 — Baqubah, Iraq — A bomb explosion at mosque kills 7, wounds 6.
May 30 — Hit, Iraq — Fedayeen suicide bomber kills 8, injures 10.
May 31 — Kaya, Nigeria —Boko Haram kills 14.
May 31 — Fafi, Kenya — Suspected al-Qaeda affiliate al-Shabaab burns down school, kills one teacher.
May 31 — Bab el-Beid, Iraq — Suicide bombers kill 3 civilians, including a child.
May 31 — Hit, Iraq — Shahid suicide bomber kills 3, injures 7.
May 31 — Mosul, Iraq — ISIS kills 34 for trying to leave the city.
May 31 — Mangai, Kenya — al-Qaeda-linked bombers kill 8.
May 31 — Kabul, Afghanistan — Suspected Haqqani Network kills at least 150, Wounds more than 460, including 11 Americans.
May 31 — Sinjar, Iraq — ISIS kills 2, injures 2.
June 01 — Abala, Niger — Jihadists kill 6 guards.
June 01 — Al-Hazm, Yemen — Terrorists kill 6, wound 15.
June 01 — Behsud, Afghanistan — Suicide bomber kills 1, wounds 4.
June 01 — Oldenburg, Germany — Muslim kills one for smoking during Ramadan and refusing to fast.
June 01 — Zanjili, Iraq — ISIS kills 7 for trying to flee caliphate.
June 02 — Kolofota, Cameroon — Islamist use two girls as suicide bombers killing 9 and wounding 30.
June 02 — Sidi Bouzid, Tunisia — Jihadist beheads one man.
June 03 — Marawi, Philippines — Islamic sniper kills 70-year-old man.
June 03 — Halabsah, Iraq — Four suicide bombers kill 1, injure 3
June 03 — London, England — Three Jihadists plow into pedestrians, then stab people, killing 7, injuring 48.
June 03 — Zanjili, Iraq — ISIS kills 43 for trying to flee caliphate.
June 03 — Lower Munda, India — Hizb-ul-Mujahideen kill 2 security troops, injure 4
June 03 — Nawabshah, Pakistan — Alleged victim's brother-in-law kills two people for alleged adultery.
June 03 — Kabul, Afghanistan — Suicide bombers kill 20, injure 87
June 04 — Kandahar, Afghanistan — Afghan police insider attack leaves six dead, one injured
June 04 — Spini, Pakistan — Two Shiites from Hazara minority group killed.
June 04 — Talibul, Moula, Pakistan — "Honor Killing" — Father kills 18-year-old daughter for allegedly "having an affair."
June 04 — Zanjili, Iraq — Wave of suicide bombers kills 32, injures 24.
June 04 — Quaidabad, Pakistan — Jihadis kill 1 barber.
June 05 — Melbourne, Australia — ISIS-linked migrant from Somalia kills man, takes prostitute hostage, an injures 4.
June 05 — Baghdad, Iraq — Terrorist mortar fired into family home dismembers 10-year-old boy, injures 4.
June 06 — Lower Munda, India — Hizb-ul-Mujahideen kill 2 security troops, injure 4
June 06 — Paris, France — Jihadist wounds cop with a hammer outside Notre Dame cathedral.
June 06 — Herat, Afghanistan — Terrorist kill 7, injure another 16 near the northern gate of the Great Mosque of Herat.
June 06 — Garissa, Kenya — Suspected al-Qaeda affiliate al-Shabaab jihadists kill 4 aid workers with land mine.
June 07 — Mosul, Iraq — Islamic State massacres 160 civilians trying to flee city, according to United Nations.
June 07 — Tehran, Iran — Sunni ISIS gunmen, suicide bombers attack Shiite country's parliament and shrine to its revolutionary leader, kills 12, wounding up to 42. source
---