There will be blood
"And he said, What hast thou done? the voice of thy brother's blood crieth unto me from the ground." Genesis 4:10
RELATED STORY: The Auschwitz Of Houston Where 9,000 Babies Were Executed In 2011
The 2012 Democratic party will officially adopt an extreme position on the issue of abortion on Tuesday. According to a copy of the party platform, which was released online just before midnight on Monday, "The Democratic Party strongly and unequivocally supports Roe v. Wade and a woman's right to make decisions regarding her pregnancy, including a safe and legal abortion, regardless of ability to pay."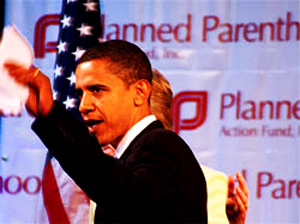 That last part–"regardless of ability to pay"–is an endorsement of taxpayer-funded abortions, a policy that President Obama has personally endorsed. Obama wants Medicaid to pay directly for elective abortions, and Obamacare will allow beneficiaries to use federal subsidies to purchase health care plans that cover elective abortions. According to a 2009 Quinnipiac poll, 72 percent of voters oppose public funding of abortion and 23 percent support it. In other words, public funding of abortion–a policy President Obama actively supports–is as unpopular as banning abortion in the case of rape, a policy on which the media have focused their attention over the past two weeks despite the fact that neither presidential candidate supports it.
The 2012 Democratic party also endorses an unrestricted right to abortion-on-demand. According to the platform, on the issue of abortion "there is no place for politicians or government to get in the way." In 2003, Obama was asked if he was pro-choice on abortion "in all situations including the late-term thing." Obama replied: "I'm pro-choice."
In 1992, then-Democratic presidential candidate Bill Clinton tried to soften the party's image on abortion by expressing his desire to make abortion "safe, legal, and rare." Although the Democratic party platforms in 2000 and 2004 stated the party's goal is to make abortion "rare," the 2012 platform makes no such claim. "In 2000, the Democratic platform said the party's goal was 'to make abortion less necessary and more rare,'" Jeff Jacoby wrote in the Boston Globe last week. "The 2004 platform declared, 'Abortion should be safe, legal, and rare.' But even calling for abortion to be 'rare' is now too much for the Democrats' platform committee, which deleted the word in 2008." The word "rare" did not make a comeback in 2012. source – Weekly Standard

NTEB is run by end times author and editor-in-chief Geoffrey Grider. Geoffrey runs a successful web design company, and is a full-time minister of the gospel of the Lord Jesus Christ. In addition to running NOW THE END BEGINS, he has a dynamic street preaching outreach and tract ministry team in Saint Augustine, FL.