Stopping Obama on Syria is a must
If the House voted today on a resolution to attack Syria, President Barack Obama would lose — and lose big.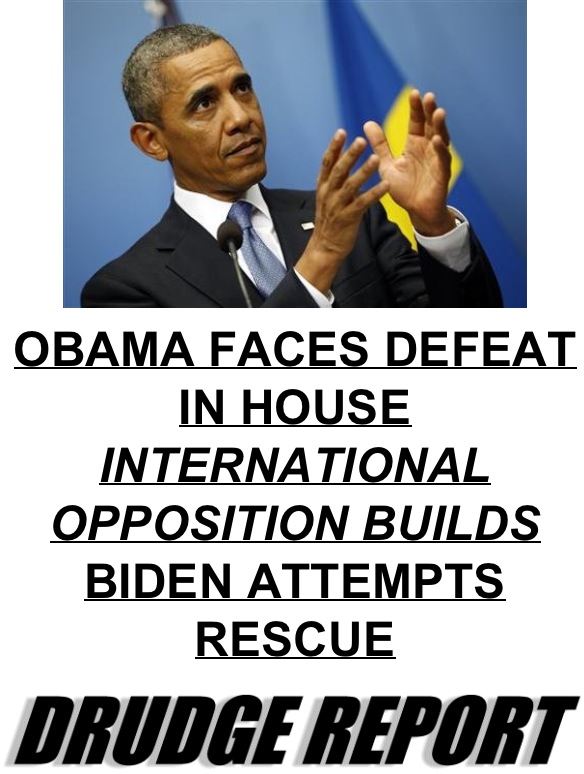 That's the private assessment of House Republican and Democratic lawmakers and aides who are closely involved in the process.
High-level congressional sources believe there is some time — but not much — for Obama, Boehner and Pelosi to turn things around. But any vote to authorize an attack on Syria will be extraordinarily close, according to people in both parties with direct knowledge of the political dynamics in the House Republican Conference and Democratic Caucus.
Boehner and Cantor back the president's plan for "limited, proportional" strikes in Syria. Majority Whip Kevin McCarthy (R-Calif.) is not convinced it's the right decision. McCarthy's calculus seems to be more in line with many House Republicans — he has spoken to many of his allies in the last week, and the support for a U.S. strike on Syria is incredibly low, sources familiar with those discussions says say.
House leaders plan to takes up the Syria resolution only if it passes the Senate first. source- Politico

NTEB is run by end times author and editor-in-chief Geoffrey Grider. Geoffrey runs a successful web design company, and is a full-time minister of the gospel of the Lord Jesus Christ. In addition to running NOW THE END BEGINS, he has a dynamic street preaching outreach and tract ministry team in Saint Augustine, FL.