Every Tuesday and Sunday Evenings At 9:00 PM EST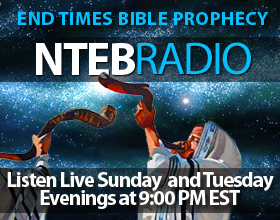 We invite you to join us for NTEB Radio where we discuss end times bible prophecy, look at current news and events that are radically changing our world, and dig deep into God's preserved word – the King James 1611 Authorized Version Holy Bible – to see what the Lord has for us.
Our Sunday night program – The Wise Shall Understand – compares breaking news headlines with scripture to see just how close to the end of everything we really are.
We have been blessed with great guests like "The Harbinger" author Jonathan Cahn, original RFID microchip engineer Carl Sanders, US Policy Expert Dr. James Garrow, Occult and Masonic author Bill Schnoebelen, and so many more. It is a live broadcast, as all our shows are, and we invite you to call in and ask questions and share your thoughts with us.
Our Tuesday Night BIble Study is a 2-hour in-depth study on bible doctrine that will challenge and encourage you to grow in your walk with the Lord Jesus Christ. Paul commanded Timothy to not simply read the scriptures, but to study it and rightly divide the Truth he found in there. And so we do.
Please join us as we look for that "blessed hope" and redeem the time as we wait patiently for His Son from Heaven to come and get us as He has promised.
"Looking for that blessed hope, and the glorious appearing of the great God and our Saviour Jesus Christ;" Titus 2:13