TOKYO — An earthquake with a preliminary magnitude of 6.1 hit east of Tokyo on Wednesday but no tsunami warning was issued and there were no initial reports of damage or troubles at area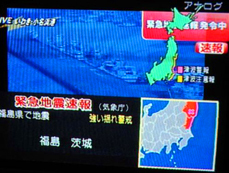 nuclear plants, the Japan Meteorological Agency and local media said.
The earthquake, which caused substantial shaking in Ibaragi and Chiba prefectures east of Tokyo, followed just a few hours after a magnitude 6.8 quake jolted northern Japan.
A tsunami warning was issued but later lifted after the northern Japan earthquake. Just over one year ago, the northeast coast was struck by a magnitude 9 earthquake, Japan's strongest on record, and a massive tsunami, triggering the world's. source – MSNBC

NTEB is run by end times author and editor-in-chief Geoffrey Grider. Geoffrey runs a successful web design company, and is a full-time minister of the gospel of the Lord Jesus Christ. In addition to running NOW THE END BEGINS, he has a dynamic street preaching outreach and tract ministry team in Saint Augustine, FL.