Jimmy Carter says Israel is causing Muslim terror attacks
"Let them all be confounded and turned back that hate Zion." Psalm 129:5 KJV
RELATED: German Chancellor Angela Merkel Warns Citizens That They Must Accept Islam
In the wake of the Islamist terror attacks in France against cartoonists and Jews, former President Jimmy Carter's first reaction was to pin the motivation for such terrorism on Israel's treatment of the Palestinians. Appearing on "The Daily Show" Monday, Carter was asked by host Jon Stewart whether the violence the world saw on the streets of Paris was actually fueled by something else other than Islamic extremism.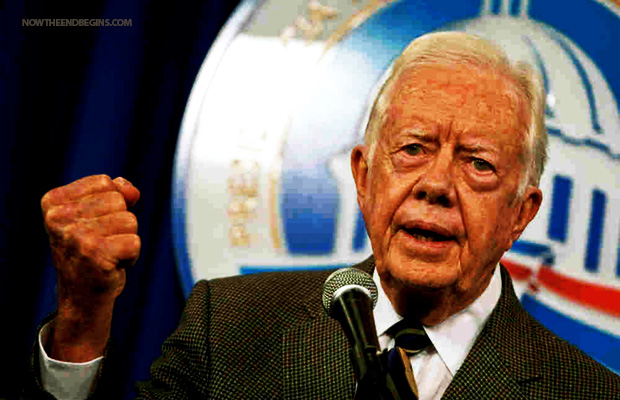 "Well, one of the origins for it is the Palestinian problem," Carter replied. "And this aggravates people who are affiliated in any way with the Arab people who live in the West Bank and Gaza, what they are doing now — what's being done to them. So I think that's part of it."
Carter didn't explain how solving the Israeli-Palestinian issue would in any way resolve the violent conflicts currently engulfing the Arab world, including the Syrian civil war, the Islamic State's takeover of part of Iraq and its brutal implementation of Islamic law, and the conflict between the Egyptian government and the Muslim Brotherhood, just to name a few. Nor did he detail how the "Palestinian problem" helps explain why three French Muslims murdered innocent French Jews buying groceries for the coming Sabbath and cartoonists preparing the next issue of their paper. source

NTEB is run by end times author and editor-in-chief Geoffrey Grider. Geoffrey runs a successful web design company, and is a full-time minister of the gospel of the Lord Jesus Christ. In addition to running NOW THE END BEGINS, he has a dynamic street preaching outreach and tract ministry team in Saint Augustine, FL.