"Son of man, set thy face against Gog, the land of Magog, the chief prince of Meshech and Tubal, and prophesy against him, And say, Thus saith the Lord GOD; Behold, I am against thee, O Gog, the chief prince of Meshech and Tubal: And I will turn thee back, and put hooks into thy jaws, and I will bring thee forth, and all thine army, horses and horsemen, all of them clothed with all sorts of armour, even a great company with bucklers and shields, all of them handling swords: Persia, Ethiopia, and Libya with them; all of them with shield and helmet: Gomer, and all his bands; the house of Togarmah of the north quarters, and all his bands: and many people with thee." Ezekiel 38:2-6
TEL AVIV — After reportedly dispatching warships to the Atlantic Ocean, Iran has now offered Russia a proposal to carry out joint naval exercises in May, according to informed Middle Eastern security officials.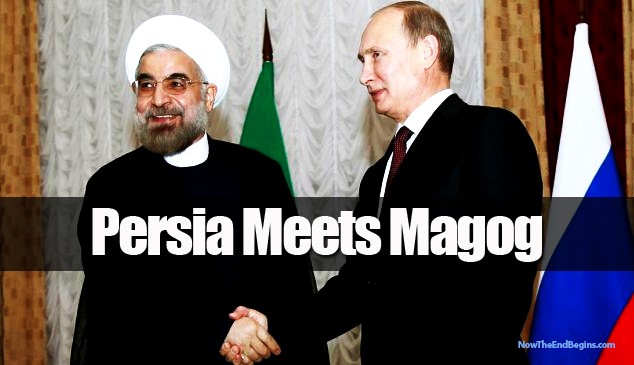 The officials told KleinOnline that Moscow is considering the proposal but that there was no immediate decision from Russia. The officials said the proposal was likely a response to Iranian information of U.S. vessels in the Persian Gulf. Until now there have been reports the nuclear-powered aircraft carrier USS Harry S. Truman has deliberately spent time outside the Gulf as a gesture to Iran while the West attempts to implement its interim nuclear agreement with Tehran. However, the Iranians believe the U.S. made a decision to send warships toward the Emirates and Bahrain.  That claim could not be immediately substantiated. Last week, Iranian state-run media quoted senior naval commander Adm. Afshin Rezayee Haddad saying his country sent a destroyer and helicopter-carrying supply ship to the Atlantic.  He said the ships will sail close to the U.S. Maritime border.
While Russia may not have responded to the Iranian offer of a joint naval exercise, Tehran's Ambassador to Moscow, Mehdi Sanayee, told reporters yesterday the two countries are looking for ways to expand ties. "Iranian President Hassan Rouhani and his Russian counterpart Vladimir Putin have agreed on the expansion of ties between Tehran and Moscow," Sanayee said. Sanayee was speaking one day after Iranian Foreign Minister Mohammad Javad Zarif and Russia's foreign minister, Sergey Lavrov, talked by phone about regional issues. source – Aaron Klein

NTEB is run by end times author and editor-in-chief Geoffrey Grider. Geoffrey runs a successful web design company, and is a full-time minister of the gospel of the Lord Jesus Christ. In addition to running NOW THE END BEGINS, he has a dynamic street preaching outreach and tract ministry team in Saint Augustine, FL.