Hungarian police have opened fire with tear gas against 1500 rioting migrants who are attempting to break through the country's border fence.
Muslim migrants have been screaming "Allahu Akbar" while pelting police officers with missiles including "really big rocks", bottles, and even food, leading to the crack down. The news follows Hungary's state of emergency declared yesterday.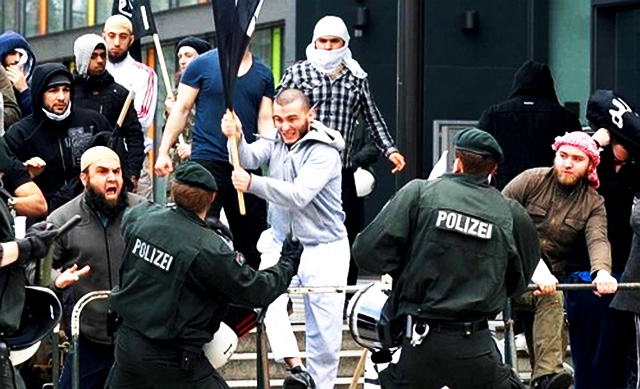 The Hungarian crack down followed the suspension of the Schengen free movement area by Germany and Austria this weekend. It became clear to German authorities that a significant number of the migrants they were processing were not in fact refugees from Syria. Germany's local authorities have also complained that they were overwhelmed by the influx of people, and were not about to process or house them effectively.
Reuters reports that Serbia says it has been informed by Hungary that the Roszke-Horgos border crossing will be closed for the next 30 days, and that Hungarian humvees with mounted guns are moving towards the Serbia border.
There are reports that some Muslim migrants have managed to break through the border fence, and Hungarian police have begun to use the water cannon to deter the rioting migrants, dozens of whom are climbing onto local buildings, hurling rocks at the border police, while others find more ammunition and keep a constantly supply going. One Sky News correspondent reluctantly reported this afternoon that most of the migrants, "about 70 per cent" were men. "There are families too," he hastily added. source

NTEB is run by end times author and editor-in-chief Geoffrey Grider. Geoffrey runs a successful web design company, and is a full-time minister of the gospel of the Lord Jesus Christ. In addition to running NOW THE END BEGINS, he has a dynamic street preaching outreach and tract ministry team in Saint Augustine, FL.