Eternally controversial Iranian president Mahmoud Ahmadinejad is in New York City and will make his final address as president to the 67th session of the United Nations General Assembly—a visit that comes at a particularly tense time for US-Middle Eastern relations.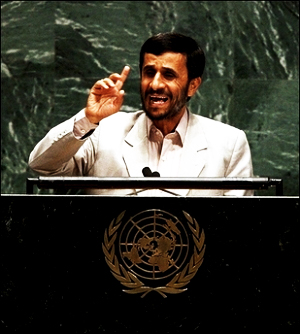 The Tehran Times reports that 100 people will accompany the Iranian president to New York City, and that many more were denied visas to join him.
The Iranian leader is expected to address the GA on the Jewish holy day of Yom Kippur, while Netanyahu will speak the next day after arriving in the United States.
Haaretz reports that 20 Iranian officials were denied visas to the United States, including ministers and top aides.
Ahmadinejad's second, final term as Iranian President is slated to end next year.
He claims that he will attempt to focus on the non-aligned movement in his assembly speech at a meeting focused on the rule of law, added the Tehran Times—though if history holds true, he may diverge somewhat from his planned message.
Ahmadinejad has never been known for his tact at United Nations conclaves: in November of 2011, he prompted walkouts when he delivered a blistering speech criticizing Zionists and the veracity of both September 11 and the Holocaust.
Perhaps unsurprisingly, protesters are ready and waiting for Ahmadinejad's arrival in New York City, reports the Wall Street Journal, and will be attempting to infiltrate the posh Warwick Hotel where he usually stays while in the United States.

NTEB is run by end times author and editor-in-chief Geoffrey Grider. Geoffrey runs a successful web design company, and is a full-time minister of the gospel of the Lord Jesus Christ. In addition to running NOW THE END BEGINS, he has a dynamic street preaching outreach and tract ministry team in Saint Augustine, FL.