"For this cause God gave them up unto vile affections: for even their women did change the natural use into that which is against nature: And likewise also the men, leaving the natural use of the woman, burned in their lust one toward another; men with men working that which is unseemly, and receiving in themselves that recompence of their error which was meet." Romans 1:26,27
LOS ANGELES — At the Grammy Awards on Sunday night, pop's megastars will compete for the music industry's most prestigious trophy, and put on flashy performances that are sure to ricochet through social media.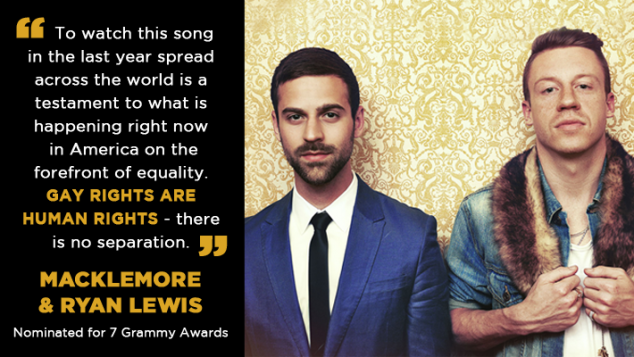 But the producers behind the program, which is to be broadcast live by CBS at 8 p.m., are hoping that the biggest show-stopper of the night will be a much more solemn event: an on-air wedding of 34 couples — gay, straight, old, young, of many races and many colors. The ceremony will be part of the hip-hop duo Macklemore & Ryan Lewis's performance of their Grammy-nominated song "Same Love," which became a marriage-equality anthem last year just as that issue was drawing intense national attention.
Mr. Lewis, the group's producer, said that the weddings "will be in our minds the ultimate statement of equality, that all the couples are entitled to the same exact thing."
The segment follows what the Grammy organizers said was the show's long history of addressing timely social issues through music, like Elton John's duet in 2001 with Eminem, who was then widely criticized as homophobic.
"We're serious about this," said Ken Ehrlich, the longtime producer of the Grammys. source – NY Times

NTEB is run by end times author and editor-in-chief Geoffrey Grider. Geoffrey runs a successful web design company, and is a full-time minister of the gospel of the Lord Jesus Christ. In addition to running NOW THE END BEGINS, he has a dynamic street preaching outreach and tract ministry team in Saint Augustine, FL.