The pope has in the past launched several scathing attacks on those who get rich through market speculation
"But the heavens and the earth, which are now, by the same word are kept in store, reserved unto fire against the day of judgment and perdition of ungodly men. But the day of the Lord will come as a thief in the night; in the which the heavens shall pass away with a great noise, and the elements shall melt with fervent heat, the earth also and the works that are therein shall be burned up." 2 Peter 3:7,10
RELATED STORY: The Unbelievable Wealth Of The Roman Catholic Church
Pope Francis warned Thursday that planet earth would not forgive the abuse of its resources for profit, urging the world's leaders to rein in their greed and help the hungry — or risk a doomsday scenario in which nature would exact revenge.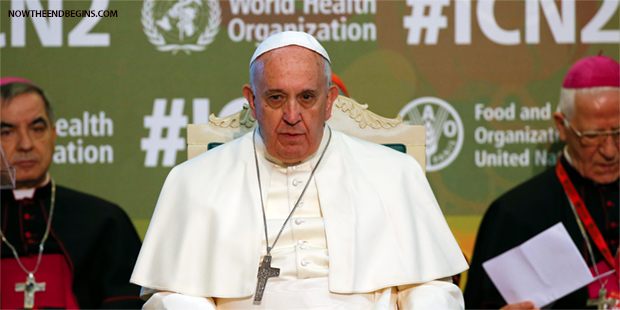 "God always forgives, but the earth does not," the Argentine pope told the Second International Conference on Nutrition (CIN2) in Rome, a three-day meeting aimed at tackling malnutrition, a global scourge which afflicts poor and rich alike.
"Take care of the earth so it does not respond with destruction," he warned representatives from 190 countries gathered for the conference organised by the UN food agency (FAO) and World Health Organization (WHO) in the Italian capital.
Read the rest of the story on France 24…

NTEB is run by end times author and editor-in-chief Geoffrey Grider. Geoffrey runs a successful web design company, and is a full-time minister of the gospel of the Lord Jesus Christ. In addition to running NOW THE END BEGINS, he has a dynamic street preaching outreach and tract ministry team in Saint Augustine, FL.