Ahmadinejad, addressing an estimated crowd of 30,000 in Tehran's Asadi (Freedom) Square in a speech also broadcast live on state TV, condemned the "arrogance" of Western powers.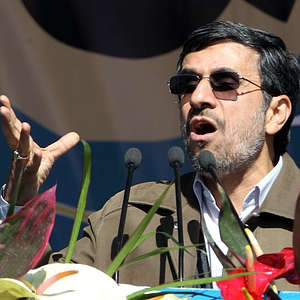 In front of the stage was a model of a US drone which came down in Iran late last year due to apparent technical problems, while the Hamas prime minister of Gaza, Ismail Haniya, was present.
Ahmadinejad also described the Holocaust as a "story," which he said was used to create Israel.
"The Iranian nation has smashed a new and modern idol. The world arrogance [the United States] and colonialists [the West], in order to dominate the world, created an idol called the Zionist regime [Israel]," Ahmadinejad said. "The spirit of this idol was a story called the Holocaust. … The Iranian nation with courage and wisdom smashed this idol to free the people of the West [of its hold]."
Ahmadinejad has previously described the Holocaust as a myth. source – NY Post

NTEB is run by end times author and editor-in-chief Geoffrey Grider. Geoffrey runs a successful web design company, and is a full-time minister of the gospel of the Lord Jesus Christ. In addition to running NOW THE END BEGINS, he has a dynamic street preaching outreach and tract ministry team in Saint Augustine, FL.