Second attack happens overnight
Security forces on high alert after demonstrators try to breach embassy; report says military council rejected Egyptian PM resignation; Israel ambassador evacuates Cairo. Security forces in Egypt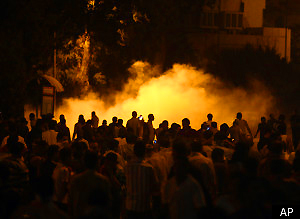 were on high alert Saturday after protesters tried to break into Israel's embassy in Cairo again this morning after the previous night's attack. Order was restored to the area Saturday morning, although small groups still lingered near the embassy, according to Al Jazeera.
The Egyptian Health Ministry has said that 1,049 people were injured in the attack, and three people were killed.
Egypt's ruling military council rejected Prime Minister Essam Sharaf's offer to resign for failure to handle the demonstration efficiently, the Arabic television channel Al Arabiya reported.
One news website earlier in the day had suggested he might offer his resignation over the violence that led to the Israeli ambassador flying out of Cairo to Israel.
Israel's ambassador to Egypt and senior staff were evacuated on Saturday following the mass demonstration in Cairo Friday night in which hundreds of Egyptians stormed the building housing Israel's mission and threw embassy documents and its national flag from windows.
A diplomat was left behind to maintain the embassy, an Israeli official said. The diplomat, identified as the consul for state affairs and Ambassador Yitzhak Levanon's deputy, will remain in Egypt while Israel weighs a response to the overnight demonstrations, the official said. source – JPost
Now The End Begins is run by end times author and editor-in-chief Geoffrey Grider, and located in Saint Augustine, Florida. NTEB delivers aggregate breaking news of the day from a biblical perspective, as well as providing rightly divided and dispensationally correct teaching and preaching from the King James Holy Bible. NTEB has been in continuous operation since being called into service for the Lord Jesus Christ in 2009. We are the front lines of the end times.