Watching the fall of society
If you are a student of history, you will know that before the fall of every great world empire certain events occurred. This events include but are not limited to the glorification of homosexuality, public intoxication and open debauchery of every type.
"The thing that hath been, it is that which shall be; and that which is done is that which shall be done: and there is no new thing under the sun." Ecclesiastes 1:9
So it is no surprise to us here at NTEB that in the same year we have seen the rise and implementation of gay marriage, we are see states now making public pot smoking legal. America, in so many ways, is a great parallel of the old Roman Empire. And like the Roman Empire, we are showing all the outward signs of a swift and fearless fall from grace.
So have at it, America. Smoke your pot in the street, promote gay marriage and all the other things that God hates. But pretty soon, He's gonna pay y'all a visit…and you're really not going to like it very much. Repent now while you still can.
From Yahoo News: DENVER, CO. — Ten years ago, Ken Gorman, the founder of Denver's annual "420 Rally," stood inside the city's Civic Center Park with about a dozen supporters as they pushed for marijuana legalization.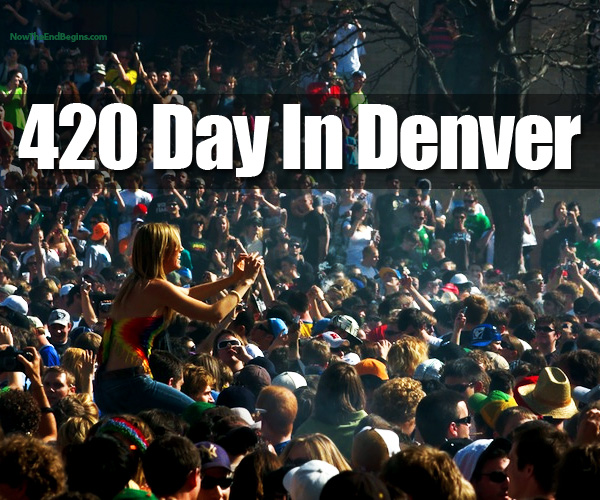 Today, an estimated 80,000 individuals gathered in the same location as they celebrated Colorado voters' decision to legalize the recreational use of cannabis last November.
"This is what freedom smells like," attorney Rob Corry told the crowd, as he counted down the moments until 4:20pm CT, at which point literally thousands of people simultaneously exhaled marijuana smoke into the air, creating a haze that was visible for blocks away.
"You're going to be in the Guinness Book of World Records," rally organizer Miguel Lopez told the crowd, eliciting a roar of cheers and laughter. "More people will have smoked pot at '420' in this location than anytime, anywhere in the history of the world."
The day's events formally kicked off at just past 10:00am on Saturday morning. And while it was readily apparent that many, if not most, attendees showed up simply for the novelty of smoking marijuana in a large public gathering, there were hundreds of people there to make money money off the attendees.
Dozens of vendors quickly set up shop, offering items ranging from marijuana smoking pipes to various food offerings like "giant turkey legs." And one didn't have to walk far without being offered several varieties of marijuana for sale, which is still illegal under Colorado law.
In November 2012, more than a million Colorado voters (55.32 percent) supported the passage of Measure 64, which legalized the recreational use of marijuana in the state. However, the consumption of the drug remains illegal under federal law. A similar bill passed by a broad margin in Washington State. source – Yahoo News