About one in four Americans suspect that President Barack Obama might be the antichrist, more than a third believe that global warming is a hoax and more than half suspect that a secretive global elite is trying to set up a New World Order, according to a poll released on Tuesday.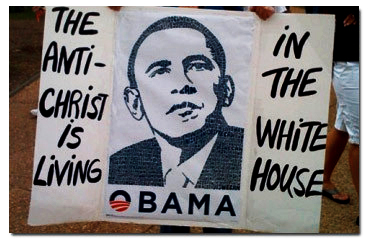 The survey, which was conducted by Public Policy Polling, asked a sample of American voters about a number of conspiracy theories, phrasing the questions in eye-catching language that will have the country's educators banging their heads on their desks.
The study revealed that 13% of respondents thought Obama was "the antichrist", while another 13% were "not sure" – and so were at least appeared to be open to the possibility that he might be. Some 73% of people were able to say outright that they did not think Obama was "the antichrist".
The survey also showed that 37% of Americans thought that global warming was a hoax, while 12% were not sure and a slim majority – 51% – agreed with the overwhelming majority view of the scientific establishment and thought that it was not.
The survey also revealed that 28% of people believed in a sinister global New World Order conspiracy, aimed at ruling the whole world through authoritarian government. Another 25% were "not sure" and only a minority of American voters – 46% – thought such a conspiracy theory was not true. source – Guardian UK